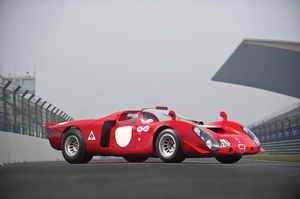 Alfa Romeo shut down its plan to build a 2-litre V8 in the 1950s, around the time it got out of Grand Prix racing. But it couldn't stay away from circuits for long, as privateers were using Alfas in sportscar and endurance events. So it set up a works team - and dusted the cobwebs off the 2-litre V8. The high-revving 201kW engine then found its way into one of the most special GT Alfas of all, the 1967 T33/2, chassis number 75033.029. It finished 1-2-3 in its class and 5-6-7 overall in the Daytona 24-hour race the same year, after which it was nicknamed the Tipo 33/2 Daytona. The car goes under the hammer in Monaco next month.
Robot Freddie walks the talk for Ford
Meet "Freddie Ford", a 300kg, 2.7m tall robot made of components from Ford cars. He's almost a replica of the original which for years did the rounds of motor shows in the US. Like the earlier Freddie, he has a television camera in his nose so he can see who he is "talking" to. He is made up of things like: oil filter caps and radio antennas for ears; Mustang parking lights for eyes; a Thunderbird back-up light for a mouth; Ford mufflers for his upper arms and Mustang shock absorbers and disc brake parts for his lower arms; hub caps for shoulders and elbows; oil pans for feet.
Freddie is also equipped with a 12-button console panel with pre-programmed questions such as: "Why do you have disc brakes for hands?" Answer: "They grip faster and better and 55 per cent easer than manual brakes. Power front disc brakes are available on all models and standard on some."
Corporate flights still sky high
In 2008, when America's Big Three CEOs were travelling to Washington to beg for funds to avoid bankruptcy, Ford's Alan Mulally, General Motors' Rick Wagoner, and Chrysler's Bob Nardelli were publicly chastised for using corporate jets costing US$20,000 a round trip. Two years earlier, Ford had to fess up that its president Mark Fields' contract included US$50,000-$70,000 worth of private weekly jet travel. Now The New York Times is reporting Ford spent US$178,571 on personal air travel for Mulally last year. It pays a charter service for Mulally and his kin. But since the benefit is classified as "security measures", he doesn't pay tax on it. The Times says it's a "common corporate tax trick" where taxpayers are subsidising Mulally's perks.
Tuning house takes design cue from old legend
German tuning house Loder 1899 has loosely borrowed from the story of Horus, the Egyptian god of the sun and moon. Horus, so the myth goes, was an immaculate conception, born to the goddess Isis after she reassembled the body parts of her murdered husband, the god Osiris. Loder has sort of reassembled the Range Rover Evoque to conceive the Evoque Horus. But unlike Isis, Loder didn't use donor parts from the original all-seeing "god"of the off-road universe, the Range Rover Classic. It just added to the standard Evoque a few bits and pieces front and rear, lowered the suspension and shod it with giant 23-inch wheels. It remains the baby of the Land Rover clan.
Contest hopeful rallies support
She may be a Miss World New Zealand contestant but Jamie-Lee Gombard is driven by another passion - cars, especially Alfa Romeos. "The brand has a longstanding history of classiness and sophistication and I aim to portray all these qualities as a future Miss World NZ hopeful," said Gombard. The business graduate works in a marketing role for Andrew Sims Alfa Romeo and represents the child cancer charity Camp Quality. At the Rally of New Zealand in 2010 Gombard helped raise more than $17,000 for the charity. Said her boss Andrew Sims: "We think there is a great fit between Jamie-Lee's participation in the competition and her support of Camp Quality, with which our company has a long association."
Tax dollars pour in as US motor industry gets back into overdrive
The US auto industry last year earned US$564 billion ($686 billion) from sales and US$174 billion from parts and repairs, says the Centre for Automotive Research. Out of that it paid US$135 billion in state and federal taxes - US$91 billion to states and US$44 billion to the feds. Tax on fuel accounted for US$60 billion of the state's take and US$29 billion of the feds'. CAR says that an average 13 per cent of all state taxes comes from the motor industry. Higher sales this year are expected to push overall industry earnings closer to US$1 trillion.