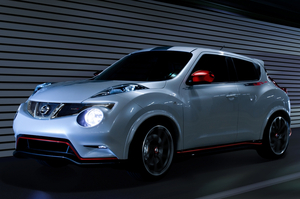 Nismo-badged Nissans could be finding their way to Kiwi showrooms for the first time.
At the recent Geneva motor show, Nissan chief executive Carlos Ghosn announced the Juke Nismo - a tweaked version of the hot-selling Juke - as a likely production vehicle.
Nismo is Nissan's go-fast arm that has traditionally produced tweaked versions of hotter base vehicles - such as the Z-cars and GTRs.
But the models have never been seen in New Zealand as anything other than used imports.
Ghosn spoke enthusiastically of building up the Nismo division as a global brand.
The Juke Nismo was seen in concept form at last year's Tokyo motor show, attended by Nissan New Zealand managing director John Manley.
"I really got the feeling that it was headed for production," Manley told Driven this week. "And if it does, we'll be very keen to get it here.
"Nismo has tended to build Skylines and Z cars, and the Juke is definitely the ideal vehicle to extend Nismo to a wider a range."
Manley says that the runaway success of the Juke and Qashqai models in Europe bodes very well for the modified Juke to be a full production model.
New Zealand's Jukes are built at the company's Sunderland plant. While European car sales have been flat over the last few years - growing by a meagre 1.5 per cent - as the continent battles financial woes, Nissan thoroughly beat the odds and posted a 17.4 per cent increase.
This growth, says Manley, was "driven almost entirely by Juke and Qashqai".
"The Juke is marketed in the UK as Qashqai's little brother, and that has worked extremely well.
"They're selling a huge volume and both vehicles are feeding off each other's success. "
Juke's overseas success has been echoed in New Zealand.
"We're selling everything that we can get our hands on," says Manley. "And a Nismo version would be an excellent extension to the range. We'd be really keen to bring it in.
"We don't have any further information as yet, but know that it will have to be produced at Sunderland - so we've certainly got our fingers crossed."
NISSAN'S 'OTHER' JUKE CONCEPT
Something that fans of gratuitous over-engineering have their fingers crossed for is a production version of the Juke-R - Nissan's "other" Juke concept.
For this, power-hungry boffins shoe-horned the running gear from Nissan's flagship GT-R into the wee Juke, producing what has to be the world's ultimate SUV.
Unfortunately this exercise in technology and going really, really fast
was a one-off - to the dismay of the 20 or so people who Nissan said happily offered to plonk down around US$500,000 ($611,000) to buy the Juke-R after it destroyed an impressive lineup of supercars in a Dubai race late last year.