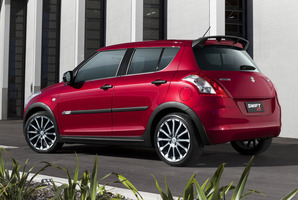 Suzuki has launched a sporty limited edition of New Zealand's most popular hatchback, the Swift, with a black, European-inspired spoiler kit.
The XS has bold wheel arch and lower side skirts, rear upper spoiler, side protection door mouldings and a unique XS decal, while its wheels - with larger diameter 17-inch HRS H-461 aluminium alloy wheels - are finished in black with a liquid smoky silver hubcaps.
Available in seven colours and fitted as standard with a four-stage automatic transmission, the XS is priced at $24,500.
"Buyers are effectively receiving $4000 worth of extra equipment at considerably less money," said Tom Peck, General Manager of Marketing for Suzuki New Zealand.
"The XS provides that extra individuality for those who would like their Swift to stand out as well as having a sharper edge to its handling."
The XS is powered by the same fuel efficient 1.4-litre twin overhead camshaft engine used in mainstream Swift GL, GLX and LTD models.
The Swift sits just behind the number one Toyota Corolla for sales to date to this year. So far, 914 Swifts have been sold to the end of March, while Corolla has sold 1288 models.