Volvo's V60 heralds a revival for the safety-first carmaker.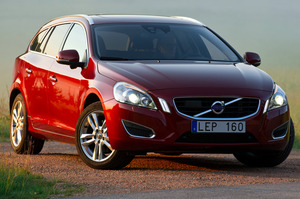 Volvo's best car for a long time comes as the Chinese-owned Swedish brand plans to spend $13.5 billion on product development over the next five years to boost its range of vehicles.
Volvo will use the money to build an engine factory in China, beef up research and upgrade technology to produce electric vehicles.
"We want to revive Volvo and give the brand its strength back," said Li Shufu, the president of Zhejiang Geely Holding Group.
Geely bought Volvo from Ford in 2010 in a deal that valued the carmaker at $2.2 billion, China's largest overseas automotive acquisition.
Volvo is poised to rapidly expand sales in China from 47,000 vehicles last year to 200,000 in 2014. It wants 20 per cent of China's premium market by 2015. Chief executive Stefan Jacoby said the investment plan would help Volvo meet the goal of doubling global sales to 800,000 units in 10 years.
Worldwide sales last year rose 20.3 per cent to 449,255 vehicles, its best sales performance since 2007.
China is a priority for Volvo and is already its third largest market behind the United States and Sweden.
The new manufacturing plant in Chengdu will complement the carmaker's two main European factories in Sweden and Belgium.
Volvo, the last Swedish brand standing now that Saab is pretty much gone, is best known for its safety features: it pioneered the three-point seatbelt more than 50 years ago.
Another of its strengths is its traditional emphasis on station wagons. The latest of these, the five-door Volvo V60, is one of its success stories, a sports wagon with styling that's a leap ahead for the one-time ultra-conservative brand.
Five variants, offering four, five and six-cylinder engines, front or all-wheel-drive and priced between $63,990 and $92,990, are available in New Zealand.
The diesel-powered D3, at $71,990, is arguably the most appealing, blending town-and-around fuel economy of about 5.5 litres/100km (51mpg) from the refined 2-litre five-pot with accurate steering and a top-class ride.
The cabin design is a mix of quality and elegance. The downside is it's somewhat austere.
The engine delivers 120kW at 3500rpm and 400Nm between 1500-2750rpm and drives the D3's front wheels through a six-speed Geartronic automatic gearbox.
It might have something to do with the D3's standard 17-inch wheels, but the ride and handling over even the worst surfaces is a standout feature. We suspect the 18-inch alloys wouldn't offer the same comfort.
The V60's suspension set-up comprises a MacPherson strut front and multi-link independent rear system. Volvo says it added stiffer springs and bushes and more damping.
The steering is electro-hydraulic powered rack-and-pinion. A speed-sensitive set-up is an $800 option. Other chassis options include the $4590 Four-C, an active system that uses electronically controlled dampers to create a range of settings from soft to firm, and self-levelling suspension at $1485.
The V60 wagon shares its 2776mm wheelbase and 4628mm overall length with the S60 sedan. But the V60's extended roofline boosts cargo capacity from 380 to 430 litres, or 1241 litres with the rear seats folded flat.
An added bonus is the 40/20/40-split rear seats with individual fold-flat capability. The front passenger seat can fold flat, too, a convenience that adds to Volvo's tradition of practicality.
The V60 gets the full safety kit, including whiplash protection headrests, and stability and traction control.
Pedestrian detection with full auto brake is an option on all but the top-line V60. This was introduced a couple of years ago on the XC60 SUV range. It can detect if a pedestrian steps into the car's path and if the driver does not respond in time, it will automatically activate the brakes. Standard on the D3 is a device which brakes the car if the driver fails to react in time to a vehicle or obstacle ahead.