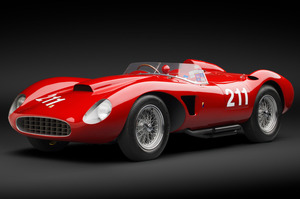 Ferrari makes some pretty sweet cars - that's a given.
But while us mere mortals dream of just getting a chance to drive one, those with incredibly deep pockets will be heading to Monaco to pick from the crème de la crème of Ferrari's history.
American collector car specialists RM Auction are running an amazing event in the flashy principality a fortnight before this year's Monaco GP, which includes an impressive number of very sought-after Ferraris.
The auction catalogue reads like a Prancing Horse fan's ultimate wish list - ranging from a 1957 625 TRC Spider, a 1966 206 S Dino Spyder and even an ex-Schumacher Formula One car.
The 1957 625 TRC Spider alone carries an auction estimate of between NZ$4.8m - $5.9 million. Shuey's old 2000 F1 car will be yours for a bargain basement $1m-1.3m.
If you're really serious about the Maranello machinery, there's a 1953 Ferrari 375MM Spider that could go for as much as NZ$6.5m.
The auction, which includes other makes and an equally impressive line-up of two-wheeled masterpieces, will take place on May 11 and 12.
- NZHERALD STAFF