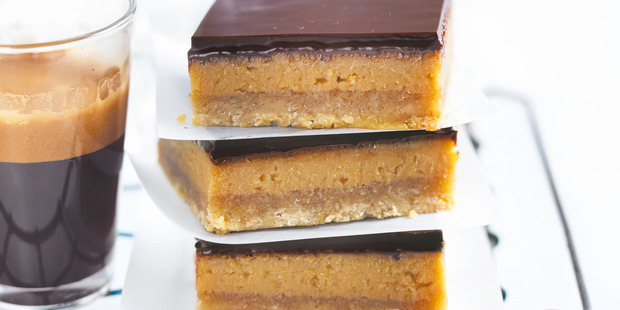 Caramel slice is arguably the most popular of all the tray-baked treats, with its luscious soft caramel sandwiched between a biscuit base and a layer of dark chocolate. And it's easier to make than it looks. Follow these three simple steps.
Makes 20
• 1 cup plain flour, sifted
• ½ cup desiccated coconut
• ½ cup brown sugar
• 125g unsalted butter, melted
Caramel filling
• 1/3 cup golden syrup
• 125g unsalted butter, chopped
• 2 x 395g cans sweetened condensed milk
Chocolate topping
• 200g dark chocolate, chopped
• 1 Tbsp vegetable oil
1. Preheat oven to 180C. In a bowl, mix together flour, coconut, sugar and butter. Line a 20cm x 30cm tin with baking paper and using the back of a spoon, press the mixture into the tin. Bake for 15-20 minutes or until golden.
2. Reduce the oven temperature to 160C. To make the caramel filling, place the golden syrup, butter and condensed milk in a medium saucepan over medium heat. Whisk until the butter is melted and cook, whisking frequently, for 7-8 minutes or until the mixture has thickened slightly (see tips and tricks). Pour caramel over the cooked base, spread evenly with a palette knife and cook for 15-20 minutes or until golden. Cool slightly and refrigerate until cold.
3. To make the chocolate topping, place the chocolate and oil in a heatproof bowl over a saucepan of simmering water. Stir until melted and smooth. Pour over the caramel mixture and spread evenly. Refrigerate for 30 minutes, or until firm. Cut into squares to serve.
Tips and tricks
• When stirring the caramel, scrape the sides and bottom of the pan so the mixture doesn't stick.
• Add 1 tsp of instant coffee to the caramel mixture for a coffee flavour.
• After spreading the chocolate over the cooled caramel, tap the tin lightly on to the bench to create a smooth finish.
• To make salted caramel slice, simply sprinkle 1 tsp of sea salt flakes over the warm chocolate before refrigerating.
• Store the slice in an airtight container between sheets of non-stick baking paper, refrigerated, for up to 1 week.