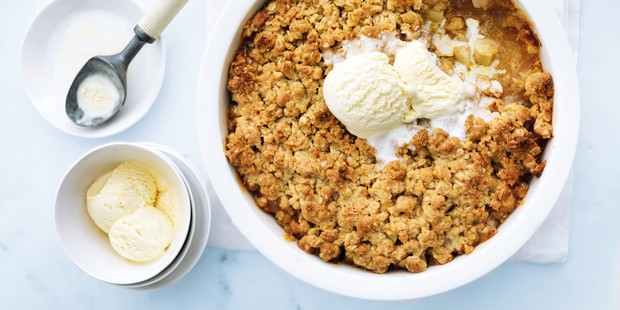 Adored for its rustic simplicity, apple crumble is one of the easiest winter desserts to bake. The oven does most of the work, with the apples softening as they warm and the topping turning crunchy and golden. Green granny smiths are the best apples to use, as they're tart and hold their shape, plus they go well with other fruits when varying from the classic.
Serves 6
• Classic apple crumble
• 5 medium granny smith apples, peeled, cored and cut into 2cm dice
• ½ cup caster sugar
• 2 Tbsp lemon juice
• ½ tsp ground cinnamon
• Store-bought vanilla icecream, to serve
Crumble topping
• 1½ cups plain flour
• ¾ cup caster sugar
• 1 tsp ground cinnamon
• 1 cup rolled oats
• 225g unsalted butter, melted
1. Preheat oven to 180C. Place the apple, sugar, lemon juice and cinnamon in a large bowl and mix to combine. Transfer to a 1.5-litre-capacity ovenproof dish.
2. To make the crumble topping, place the flour, sugar, cinnamon, oats and butter in a large bowl and mix until just combined. Spoon the crumble mixture over the apple and place the dish on a large baking tray.
3. Bake for 40-45 minutes, or until the crumble is golden and the apples are soft. Serve with vanilla icecream.