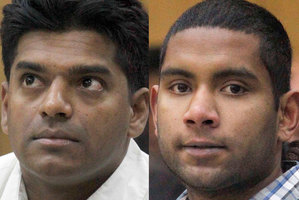 Two men have been sentenced to life in prison for the "execution-style'' murder of a farm worker in Canterbury in February 2012.
Thuvan Prawesh Sawal, 24, and 35-year-old Viraj Alahakoon were convicted of murdering friend and fellow Sri Lankan Sameera Battelage after a 21-day trial at the High Court in Christchurch.
They were also convicted of arson and Alahakoon was convicted of two counts of assault, after cutting a woman's long hair with scissors.
Today the pair were sentenced to life imprisonment, with a minimum non-parole term of 17 years.
Mr Battelage's badly charred body was found in his burning farmhouse on Domain Rd, just outside Oxford in North Canterbury.
Alahakoon and Sawal were soon arrested and charged with murder and arson.
Sawal and Alahakoon blamed each other for cutting the throat of their friend who had been having an affair with a woman they knew.
Sawal claimed he witnessed Alahakoon cut the throat of Mr Battelage ``like a sheep'' as he slept, in a murderous, jealous rage after learning of the affair.
But Alahakoon's story was that Sawal woke him shouting, holding a blood-soaked knife, with Mr Battelage lying dead on the couch.
The Crown said both men had plotted to kill the farmer in revenge for the affair.
Alahakoon, who had just been laid off as a jeweller, and Sawal, who was an overstayer with a warrant out to send him back to Sri Lanka, said they wanted to confront him over the affair.