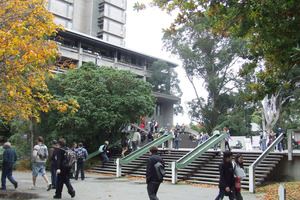 Two postgraduate science students have been taken to hospital after a suspected explosion at Canterbury university.
Professor Paul Fleming, pro vice chancellor of Science, said the incident was brought to his attention at 1pm.
"One of our chemistry research students was making a compound in a research laboratory and when doing so the piece of equipment - a flask - has shattered and he received some glass injuries to his hand.
"One other student had a minor injury to her neck.''
Both were taken to hospital by ambulance and emergency services have now left the campus.
Police, fire and ambulance were called to level six of the Rutherford Building, which houses the chemistry department, just after 12.30pm, said fire communications shift manager Brent Dunn.
University spokesman John MacDonald said its' response to the incident had now been scaled back to a health and safety matter and the university will be monitoring the students' progress this afternoon.
He added that as a result of coverage of the incident the university has been receiving inquiries from friends and family of staff and students.
"The university is advising staff and students to let friends and family know they are safe if they think they may be concerned."