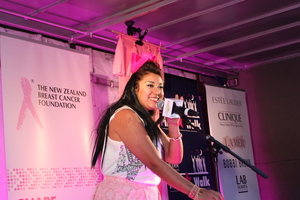 A whopping $75,000 was raised for breast cancer research during a twilight walk in Auckland last night.
Dressed in pink onesies, tutus and wigs, around 2000 people marched under the stars to show their support for cancer sufferers.
"Nearly everyone was wearing pink of some kind, we had pink nuns, pinks onesies and pink pyjamas. One person had dyed their dog pink," said Adele Gautier from the New Zealand Breast Cancer Foundation. "And there were a few men in pink too."
It's the first time in three years that the charity has held the Pink Star Walk, this time with a 10 kilometre option, which took walkers out of Auckland Domain and through Parnell before returning to the park.
It was brought back after a strong response from women asking to take part, Ms Gautier said.
The walk was opened by former television presenter Helena McAlpine, who was first diagnosed with breast cancer in 2008.
She was joined by fellow sufferers of the disease during the event, including some women who are still in the middle of their treatment - one was in Auckland to undergo radiotherapy, another had marked eight weeks since her mastectomy by taking part.
Ms Gautier described the women as "heroic" for participating at such a difficult time in their lives.
"The camaraderie of the whole crowd is really encouraging for people, and people were cheering them on as they came back into the Domain," she said.
A preliminary count put the money raised by last night's event at $75,000, including entry fees and sponsorship money.
Ms Gautier described the total as "fantastic".
- APNZ