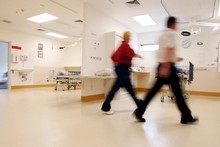 North Shore Hospital has admitted it failed Josephine Wells, following a complaint that the frail, elderly woman was ignored, treated incompetently and intimidated by staff.
Mrs Wells, of Te Atatu South in West Auckland, has now received explanations, apologies and outlines of remedial actions from the Waitemata District Health Board chairman, Lester Levy, and senior staff, following the nightmare of her overnight stay in the hospital's emergency care centre last October.
But the 70-year-old, who has lung cancer, the auto-immune disorder lupus and a history of strokes, said she was unconvinced that the problems would be fixed and was fearful of returning to the hospital.
Mrs Wells said she was scared of being victimised for speaking out, next time she had to go to the hospital.
"One of the nurses involved, she's been rude to Mum before," said Mrs Wells' daughter Annette.
Mrs Wells was in the emergency care centre overnight for observation, mostly in a cubicle, after having a cancer biopsy taken.
The biopsy had led to one lung being punctured and collapsing, a known complication which causes severe pain when air leaks into the area around the lung.
An air drain, called a Heimlich valve, had been inserted through Mrs Wells' back to allow air to escape, but leaked blood.
Her daughter said she had to hold the drain for nine hours to stop the blood dripping and so her mother could breathe.
"I asked for help when a nurse came in and was given a vomit pottle to hold under the drain. The nurse then disappeared."
None of the nurses knew how to manage the drain. For a time it was clamped shut, stopping it from working and causing extreme pain, in an overnight stay marked by poor pain management. The lung collapsed again, leading to a week in a hospital bed.
No doctor came to see Mrs Wells for 15 hours overnight, despite the problems with the drain. When she did next see a doctor, at 10.30am, the drain was immediately identified as leaking under the skin.
Mrs Wells' daughter said nurses had "rudely advised us" they would be "unimpressed" if they pressed the call button without good reason.
They pushed it when Mrs Wells needed a toilet commode brought in. No one had come after 20 minutes so Ms Wells asked if she could get one herself.
"... 15 minutes after that, a disgruntled hospital worker came in with a commode. I then had to ask for toilet paper which seemed to aggravate the person further.
"From here on in, we were treated even more appallingly, with bad attitudes, [and] backwards threats of being put into the corridor if we weren't quiet and if we 'made a fuss'."
In her letter of complaint, Ms Wells asked why it was considered acceptable "to scare, intimidate and put down patients".
LEFT WAITING
It took 35 minutes after ringing the help bell, and her daughter's intervention, before a toilet commode was brought to Josephine Wells.
North Shore Hospital says this is unacceptable, but won't say how quickly the bell should be answered.
"We would expect bells to be answered in a timely manner ... in a short period of time." - chief medical officer Dr Andrew Brantby
By Martin Johnston

Email

Martin