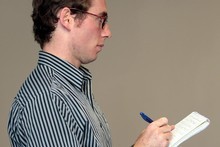 It's just days until the fireworks when Herald on Sunday reporter Kieran "Bad News" Nash dons his boxing gloves on Guy Fawkes Night to raise money for KidsCan. Today he introduces his opponent.
It's official. On Friday I tangle with Nick "Fists of Fury" Ferdinando.
My opponent is 20. He's from Tauranga and is an avionics mechanic in the Air Force at Whenuapai.
He's studying mathematics so I am guessing his tactics in the ring will be calculated.
We're the same weight, 73.5kg. We have the same reach. I'm 2.5cm taller.
He's a lot fitter than me - the first time I saw him he was running on the track training for the big night. He beat everyone. I'd like to say he is an absolute so-and-so, and use this column to beat him up. But no such luck.
He's a genuine nice guy, polite and listens to what others have to say. Damn.
It's been a huge effort to get in shape for a fight in this short timeframe. Tune in next week for the result - I hope Bad News travels faster than Fists of Fury.
By Kieran Nash

Email

Kieran