Part of a Wellington mall may be demolished after the 7.8 magnitude earthquake turned it into a public safety risk.
Engineers found the Event Cinemas and part of the Queensgate Shopping Centre carpark would be dangerous if another earthquake happened. The shopping centre itself is structurally sound and open to the public.
But because of the height of Queensgate, neighbouring New World Hutt City supermarket and part of The Angus Inn hotel were evacuated yesterday.
The Hutt City Council said that it had been told the northeastern building of the complex would be a safety risk in another earthquake.
Council chief executive Tony Stallinger said current advice was to demolish the building, which is part of the mall.
"We know this will inconvenience the public and impact on business. However, the likelihood of significant damage in another earthquake is high. Our number one priority is to ensure people are safe and lives are not put at risk."
Extended cordons have also been put in place along Waterloo Rd and Bloomfield Tce.
About 80 shops in the unaffected Queensgate Shopping Centre complex opened today. This area of the complex has been assessed by engineers and is structurally sound and Council granted it a Certificate of Public Use.
Meanwhile, insurer Vero had received more than 1000 claims after the earthquake.
Executive general manager of claims Jimmy Higgins said the quake caused an enormous amount of damage.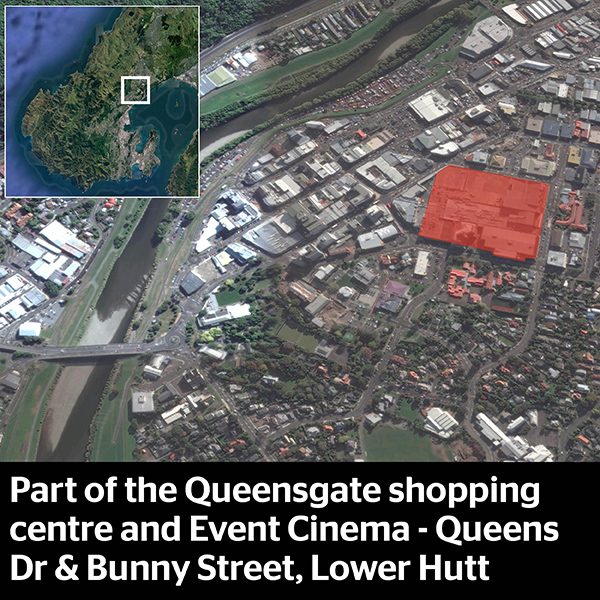 "Vero has a great deal of experience in disaster management and we've been on the ground since day one, assessing the damage and helping our customers through this very unsettling time.
"The sooner people contact us, the sooner we can get on with carrying out any urgent work, and managing their claims. We have many learnings from the Canterbury earthquake experience and our key goals are speed of response and communication to our customers."
Vero has set up an office in Kaikoura at The Craypot Cafe.
Higgins said it was too soon to put a cost on the damage from the earthquake but Vero has strong reinsurance arrangements.
Customers can call Vero's natural disaster line on 0800 808 121 or talk to their broker or adviser. For queries about existing claims, customers should call 0800 808 121 or email KaikouraEQ@suncorp.co.nz