Flight distances from Auckland:
• Buenos Aires - 10,358km
• New Delhi - 12,493km
• Houston - 12,635km
• Dubai - 14,209km
Two of India's passions will be harnessed at a New Delhi event today designed to grow the number of Indians holidaying in New Zealand.
Former Black Caps captain Brendon McCullum will join Bollywood star Sidharth Malhotra at the tourism event.
Prime Minister John Key, who is also attending, is likely to get much less attention than those two stars, given locals' love of cricket and cinema.
Last year there were 46,000 Indian visitors to New Zealand, with 50,000 Kiwis going in the other direction.
A number of Indian productions have been shot in New Zealand, and Tourism NZ has also used Bollywood stars as ambassadors, including Malhotra, who last year toured the country and tweeted photos to his 2.42 million followers.
One obstacle to growing tourism numbers is the lack of a direct flight between the countries.
In contrast, Philippines and New Zealand will be linked by a direct flight soon.
We don't want to have all our eggs in the Chinese market

SHARE THIS QUOTE:
The number of Indian Kiwis dwarfs the number of Filipinos living in New Zealand (170,000 to 40,000), there are more tourists heading in both directions, and India is the second largest provider of international students to New Zealand (about 29,000 and rapidly growing).
Both Air India and Air New Zealand have Boeing 787 aircraft that could cope with the 16-hour flight time between India and NZ.
However, Air New Zealand chief strategy officer Stephen Jones told the Herald that the distance required a heavy fuel load and meant the potential profit wasn't large enough.
Another problem was India's size - meaning travellers would be coming from and going to a number of different major cities, not just New Delhi or Mumbai.
Under a recent agreement with Singapore Airlines, Air New Zealand can offer tickets to Mumbai, Kolkata, Chennai, Bangalore, Kochi and Hyderabad, all via Singapore.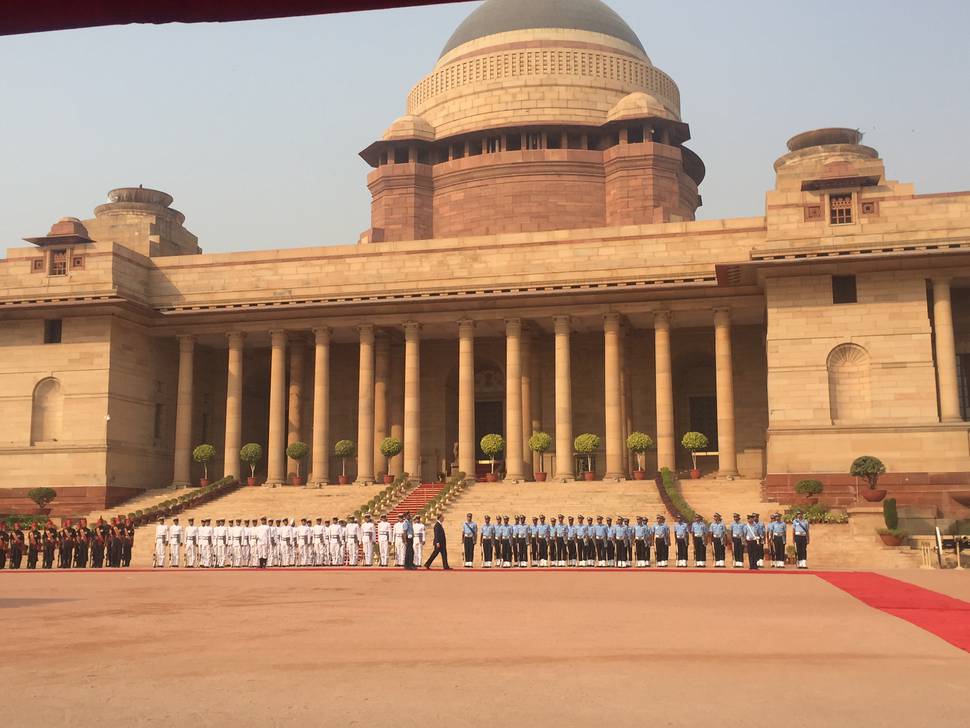 Air India, which once flew direct to Fiji, recently started flights from New Delhi to Sydney and Melbourne.
Sunil Kaushal, general secretary of India Trade Alliance and who is on the PM's delegation, said that link had brought an increase in tourists going to Australia.
It was difficult to tap into that flow because Indians needed a transit visa to fly on to New Zealand, Kaushal said.
Meanwhile, Key yesterday met with Indian Prime Minister Narendra Modi after receiving a ceremonial official welcome.
A major objective is to give momentum to free trade agreement talks that have struggled over 10 rounds since beginning in 2010.
"I think it needs that push from the top to give it that reason for the negotiators to put their shoulder to the wheel," Key said ahead of the meeting.
New Zealand was pursuing such trade deals because "we don't want to have all our eggs in the Chinese market".
Dropping steep agricultural tariffs would be extremely controversial in India, the world's largest producer and consumer of milk with millions of small-scale farmers.
But Key said farmers need not fear a trade deal, saying it would mean more New Zealand investment and collaboration to strengthen food production.
India is also keen on pushing New Zealand to support its entry to the Nuclear Suppliers Group, a club of 48 countries that control access to sensitive nuclear technology.