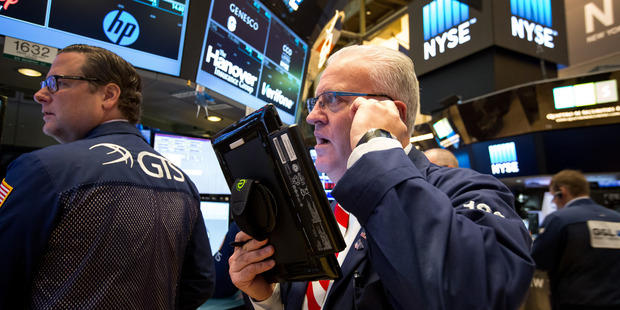 Equities on both sides of the Atlantic fell amid disappointing earnings from Travelers and Nestle.
In 2.04pm trading in New York, the Dow Jones Industrial Average slipped 0.1 percent, while the Nasdaq Composite Index fell 0.2 percent. In 1.50pm trading, the Standard & Poor's 500 Index inched 0.1 percent lower.
The Dow fell as slides in shares of Travelers and those of Verizon Communications, recently down 5.2 percent and 2.8 percent respectively, outweighed gains in shares of American Express and those of UnitedHealth, recently trading 10.1 percent and 0.6 percent higher respectively.
Traveler shares slid after it reported a drop in profit, while Verizon shares fell after the company posted a decline in quarterly revenue.
On the flipside, American Express shares soared after its posted results that beat expectations and upgraded its 2016 profit outlook.
Meanwhile, a National Association of Realtors report showed that US existing home sales increased 3.2 percent to an annual rate of 5.47 million in September, up from a downwardly revised 5.30 million in August.
"The home search over the past several months for a lot of prospective buyers, and especially for first-time buyers, took longer than usual because of the competition for the minimal amount of homes for sale," Lawrence Yun, NAR chief economist, said in a statement.
Most families and move-up buyers look to close before the new school year starts, Yun noted.
"Their diminishing presence from the market towards the end of summer created more opportunities for aspiring first-time homeowners to buy last month."
In Europe, the Stoxx 600 Index ended the day with a gain of less than 0.1 percent. The UK's FTSE 100 Index rose 0.1 percent, France's CAC 40 Index gained 0.4 percent, while Germany's DAX Index added 0.5. percent.
The euro weakened, touching its lowest level against the US dollar in four months, after European Central Bank President Mario Draghi said policy makers hadn't discussed whether to extend or taper its asset purchase program. He pushed that decision until December.
We're making progress in addressing challenges and driving our different initiatives amidst a generally softer trading environment.
"Because of what Draghi didn't convey today, markets are starting to question how committed the ECB is to extending its current asset-purchase program beyond 2017," Valentin Marinov, head of Group-of-10 currency strategy at Credit Agricole's corporate and investment-banking unit in London, told Bloomberg.
Switzerland's Nestle closed 0.8 percent lower in Zurich after the company downgraded its full-year sales outlook.
"For the full year 2016, considering the current softer environment, we expect organic growth of around 3.5 percent, improvements in margins and underlying earnings per share in constant currencies, and increased capital efficiency," Chief Executive Paul Bulcke said in a statement.
The company previously forecast full-year revenue would grow about 4.2 percent.
"We are making progress in addressing our challenges and driving our different initiatives amidst a generally softer trading environment," Bulcke noted.