The Health Ministry is investigating alleged illegal sales of medications by Auckland stores which have no licence to operate as pharmacies.
The Weekend Herald has found unlicensed businesses selling pain relievers, medical creams, weight-loss pills, laxatives, anti-worm medications and pregnancy-related supplements.
Some are selling Pamol, a liquid syrup containing paracetamol pain reliever, Proctosedyl cream for haemorrhoids and other medications which only licensed pharmacies are legally permitted to sell. Others are offering Xenical weight-loss pills, which can legally be sold only by registered pharmacists.
"They should be shut down. That's just not on," said registered pharmacist Warren Flaunty, a member of the Waitemata District Health Board.
He said liquid paracetamol was restricted to pharmacies because of the risk of accidental overdose.
"... the child would possibly end up in hospital because of liver damage - there's no antidote."
If Proctosedyl was used by someone with bleeding they needed to be monitored because they may be suffering bowel problems more serious than fissures.
"You don't just give that stuff out unless you give a warning that if your condition doesn't improve you need to see a doctor pretty smartly," Flaunty said.
A complaint has been laid with the ministry's Medsafe unit. The ministry said Medsafe investigated all complaints but could not comment while they were under way.
Product advertisements were pulled off websites, which are in Chinese script, after the Weekend Herald began investigating this week, but not before we had bought two items:
• Lamisil antifungal cream labelled "pharmacy medicine", from the Andrews Health shop in Rosedale on Auckland's North Shore. We were given a receipt that described the purchase as manuka honey.
• Pamol, in an internet purchase from dbox.co.nz, which has a distribution centre in Rosedale.
Both businesses said they did not have a pharmacy licence.
Dbox cancelled the Pamol purchase and promised a refund when contacted on Thursday.
"As far as I'm aware, 100 per cent of our product goes to China," said business development manager Craig Newth.
"Our system has an inherent design for local delivery but [is] very rarely used, hence myself not being aware of any local sales at all."
"I know there's a lot of companies doing what we do."
On its website, Dbox displays its two finalist certificates - signed by Auckland Chamber of Commerce chief executive Michael Barnett and the head of Auckland Council's economic development arm Brett O'Riley - from the 2016 Westpac Auckland Business Awards.
An Andrews Health representative, Sabrina, who withheld her surname, said it obtained medications from pharmacies.
"For convenience for our customers that's the reason those products are on the shelf."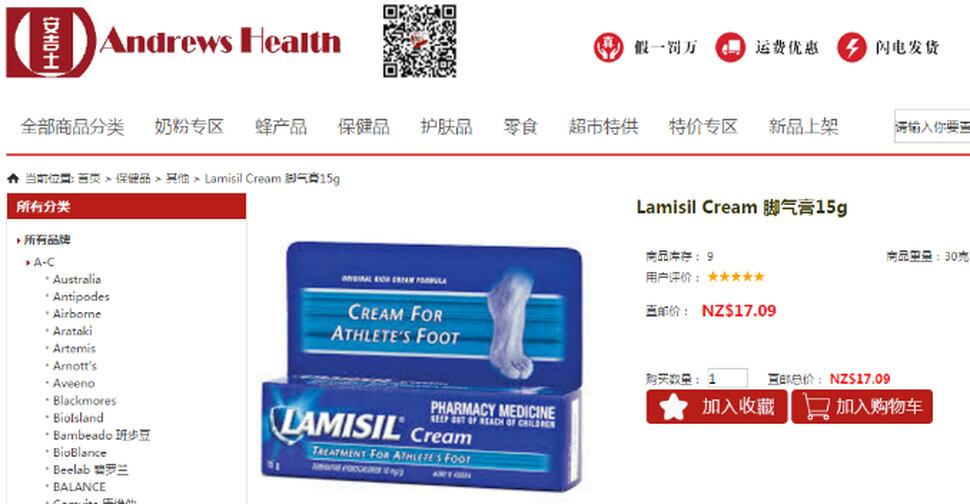 The ministry said: "Under section 18 of the Medicines Act it is unlawful for non-pharmacies and non-pharmacists to sell pharmacy-only and pharmacist-only medications. The offence is the sale, not the nationality or country of residence of the purchaser."
The maximum penalty, on conviction, is three months in prison or a $500 fine plus $50 for each day the offence has continued.