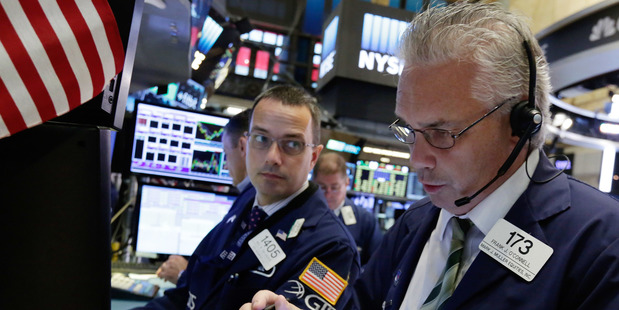 US stocks rose Friday as investors found some positive aspects in a middling employment report. Job growth slowed in August, and traders hope that will convince the Federal Reserve to wait before raising interest rates.
Stocks started the day with big gains following the Labor Department's job report.
Energy companies rose more than the rest of the market as oil prices broke out of a four-day slump. The gains were broad, but the stocks that rose the most were utilities, which would stand to benefit if interest rates remain low.
Kate Warne, investment strategist for Edward Jones, said the jobs report was good but not great. That actually helped send the market higher because a very strong report could have pushed the Fed to raise interest rates as early as this month. Some investors fear that could jeopardize an uneven economic recovery.
"It falls right in the sweet spot of what the market wanted," she said. "It wasn't so strong as to make (higher interest rates) seem necessary but it wasn't so weak as to make a rate increase this year unlikely."
The Dow Jones industrial average added 72.66 points, or 0.4 per cent, to 18,491.96. The Dow rose as much as 125 points in the morning.
The Standard & Poor's 500 index rose 9.12 points, or 0.4 per cent, to 2,179.98. The Nasdaq composite gained 22.69 points, or 0.4 per cent, to 5,249.90.
Compared to the last few months, job gains slowed in most major industries in August and wages only rose a little. While the US is on a long streak of job growth, reports over the last few months have been inconsistent. Growth was weak in April and May, but picked up in June and July and seems to have slowed again last month.
The Federal Reserve raised interest rates slightly in December and wants to gradually bring them back closer to where they were before the financial crisis of 2008. But most investors didn't expect rates to rise this month, and the jobs report appeared to confirm that.
US benchmark crude oil rose $1.28, or 3 per cent, to $44.44 a barrel in New York. Brent crude, the benchmark for international oil prices, added $1.38, or 3 per cent, to $46.83 a barrel in London. US crude had fallen 9 per cent over the last four days. Anadarko Petroleum added $2.95, or 5.5 per cent, to $56.49 and Chevron picked up 72 cents to $100.93.
Utilities made even bigger gains. They're seen as steady investments, and their high dividends make them more appealing when bond yields are low. NextEra Energy gained $2.13, or 1.8 per cent, to $123.13 and American Electric Power rose 83 cents, or 1.3 per cent, to $65.24.
Household goods makers also traded higher. Colgate-Palmolive, which makes toothpastes, soaps, and pet foods, rose 62 cents to $74.89. Tyson Foods, the largest meat and poultry processing company in the world, gained 96 cents, or 1.3 per cent, to $76.44. Cigarette makers also did well, as Reynolds American and Altria Group gained ground.
Carnival and Royal Caribbean Cruises both skidded. Morgan Stanley analyst Jamie Rollo said demand for cruises seems to have gotten weaker in August and bookings for late 2016 and early 2017 have slowed down. He downgraded Carnival shares to "Underweight," and the company took the biggest loss on the S&P 500. It fell $2.31, or 4.7 per cent, to $46.39 while Royal Caribbean lost $2.70, or 3.7 per cent, to $70.01.
Health care companies missed out on the gains as drugmakers fell. Democratic presidential candidate Hillary Clinton announced a plan Friday that's intended to give the government more power to resist increases in the price of older drugs. Mylan fell $1.95, or 4.7 per cent, to $39.97 as legislators questioned the company's rebate payments to Medicare. Mylan stock has dropped 18 per cent in the last two weeks as the company has been criticized for repeatedly raising the price of its EpiPen allergy injection. Elsewhere, Mallinckrodt fell $3.17, or 4.2 per cent, to $72.42.
Athletic apparel maker Lululemon fell after it reported disappointing sales. Its forecast for the rest of the year also failed to inspire investors. The stock tumbled $8.09, or 10.6 per cent, to $68.57.
Bond prices fell. The yield on the 10-year US Treasury note rose to 1.61 per cent from 1.57 per cent. The dollar rose to 103.94 yen from 103.32 yen and the euro edged down to $1.1159 from $1.1197.
In other energy trading, wholesale petrol rose 3 cents to $1.30 a gallon. Heating oil also gained 3 cents to $1.41 a gallon. Natural gas remained at $2.79 per 1,000 cubic feet.
Gold rose $9.60 to $1,326.70 an ounce. Silver added 42 cents, or 2.2 per cent, to $19.37 an ounce. Copper edged up less than 1 cent to $2.08 a pound.
The FTSE 100 in Britain jumped 2.2 per cent and France's CAC 40 rose 2.3 per cent. In Germany, the DAX climbed 1.4 per cent. Japan's benchmark Nikkei 225 index finished practically unchanged while South Korea's Kospi edged 0.3 per cent higher. Hong Kong's Hang Seng rose 0.5 per cent.