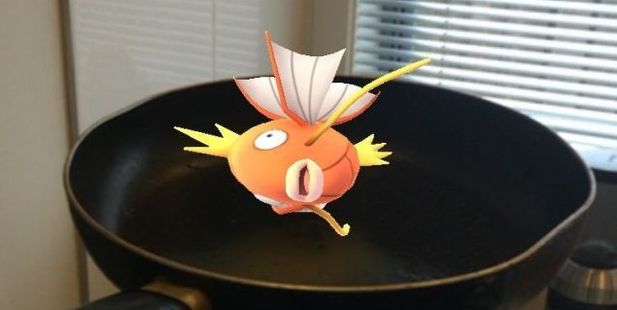 Ever wondered what a manga cartoon version of Middle Earth inhabited with psychedellic creatures would look like? Probably not, but now you can with the Pokemon GO augmented reality mobile game, which has made its world premiere in New Zealand, apparently much to the envy of the rest of the gaming world.
For the moment it is exclusively available in New Zealand and Australia and there's been no word yet about when the game will launch in other regions. According to the Wall Street Journal, game makers Nintendo and the Pokemon Company have just asked US and Japanese players to "please wait a while" for the app to launch in their regions.
Feels bad man... #PokemonGohttps://t.co/g2iZRKfuMi

— IGN (@IGN) July 6, 2016
Why does Australia have #PokemonGO before everyone else they already have wild animals waiting to jump out and attack them at every turn

— ☆lazy fairy (@shibuyaburrito) July 6, 2016
People are saying 'finally!' in the #PokemonGo hashtag. My App Store is still empty and you people make me want to cry

— PokeTalk (@PokeTalkORG) July 7, 2016
However, some Android users in the US and UK have found a way to download the app from unofficial sources.
For those unfamiliar with augmented reality, it is the blending of virtual reality and real life, as developers can create images within applications that blend in with contents in the real world. With AR, users are able to interact with virtual contents in the real world.
On their phones, game players hunt for Pokemon in the real world looking through their screens for the digital creatures that lurk all around them. And as the old adage goes, "you've gotta catch em all" by throwing a pokeball which somehow encapsulates them.
Hahaha too many of us kiwis and Aussies playing must be crashing the servers!!! #PokemonGO @NianticLabs pic.twitter.com/Y6qskjVg4t

— Hemi (@HellraiserHemi) July 6, 2016
The game has proved so popular in New Zealand and Australia that its servers appeared to crash due to a load crunch shortly after its release. And it appears that people are already having trouble discerning reality from fiction in the game with the Northern Territory police in Australia putting out a public safety notice to keep those Poke-hunters on the right track and out of trouble.
Even the police is talking about #PokemonGOpic.twitter.com/BgYsTPvZON

— Pokemon Tweets! (@PokeSchool) July 7, 2016