A renovated four-bedroom villa on Cheltenham Beach is on the market for $9 million, nearly triple what the owners paid for it nine years ago.
Mike and Angela Hare paid $3.7m for the heritage villa in 2007.
After a massive rebuild - which topped the $2m mark - the Hares have decided the time is right to sell up.
"North of $9 million," Angela Hare said of the asking price expectation.
"We're not looking for someone scraping up to buy it. We would have spent more than $2 million. The entire house has been re-built. We would have been better to pull it down and start again," she said, based purely on financial metrics.
The couple commissioned Devonport architect Geoff Richards and builders Good Bros Construction, then moved out for a year.
"We've turned a sow's ear into a silk purse. We added an upper level in the existing eves - a master suite in the roof space," Angela Hare said.
Being right on the waterfront did not bring privacy concerns.
"This is a forgotten beach, except for locals," she said.
"We've got a private evening area which gets all the sun. We BBQ on the other side," she said referring to a western area, sheltered by the house.
The site is 898sq m and she said potential rising sea levels and insurance were no concern.
"We're insured, so I would imagine that would be the case," she said of buyers getting insurance.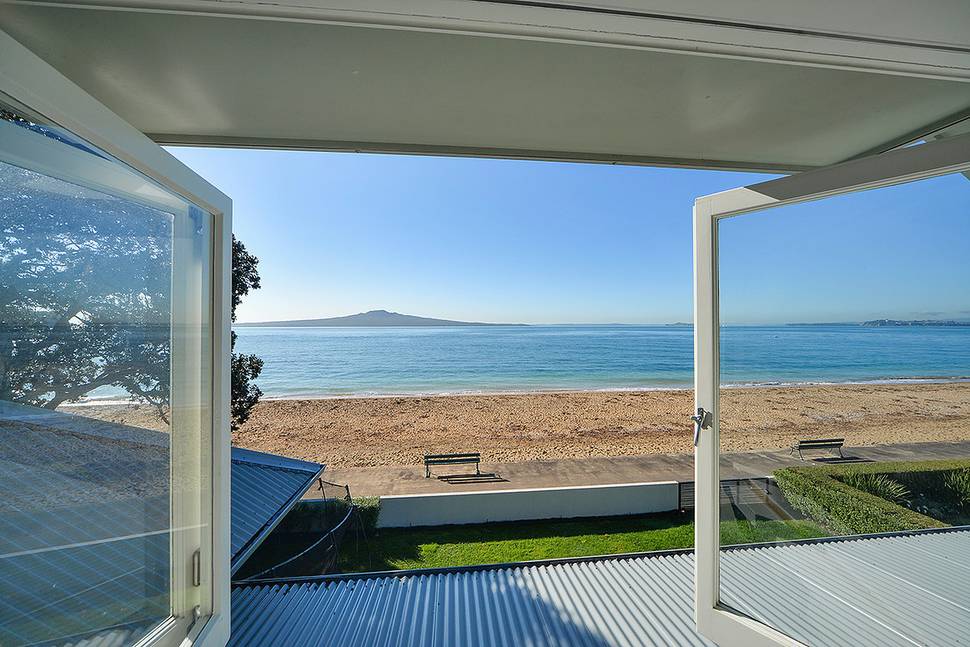 "We have had storms over the years and you get wind but the sea had never broken the boardwalk," referring to the walkway between her place and the beach.
Ollie Wall, of listing real estate agency Graham Wall, said the location was outstanding and his agency had also recently sold a place two houses away at 15 Arawa Ave for $8.75m.
"Herne Bay has the most expensive houses in New Zealand but Cheltenham is a far better beach," Graham Wall said.
Wall did not expect the property to remain on the market long.
"The top [end of the market] isn't suffering," he said.
His agency has sold properties worth $150 million in the last three months alone and he expects the luxury market to keep rising.
Meanwhile, Barfoot & Thompson revealed 37.6 per cent of its sales (355 properties) in April were homes topped the $1m mark.
But not all luxury properties were selling fast.
The $35m Coatsville mansion formerly rented by Kim Dotcom did not sell at tender. When the official tender period ended in April, not one offer was submitted and the property remains unsold.
The stylish stark white Takapuna mansion of hairdressing couple Paul and Jacci Huege De Serville went up for sale last last year and was recently under under contract, expected to go for about $5.5m.
See the full listing with photo gallery here.
HOW'S THE TOP END?
$1m+ Auckland house sales 2016
Month - Number of sales - Portion of all that month's sales
January - 185 - 37.9%
February - 187 - 42%
March - 474 - 49%
April - 355 - 37.6%
[Source: Barfoot & Thompson]

See a Google Map showing the location of the Cheltenham home: