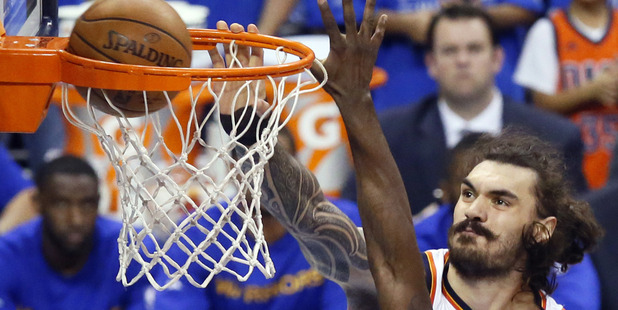 The failure of Sky Television's online streaming service for almost all of today's NBA match between Steven Adams' Oklahoma Thunder and the Golden State Warriors isn't good enough, says company boss John Fellet.
Sky tweeted about the outage towards the start of Game 7 of the Western Conference NBA finals .
Twitter users, in response, lambasted the company, with one person calling the situation a "disgrace".
Sky Go was down for more than three quarters of the game, fixed just in time for the final five minutes.
Asked if this was good enough, Sky chief executive John Fellet said: "No it's not good enough. I haven't got a report yet on what caused the outage of it but it certainly wasn't volume related. Last time it fell was in February and since then we've have tons of heavy-usage of it including Friday and Saturday nights with the rugby. It was pretty light today when the login failed, so I don't know exactly what caused it," he said.
In February, Sky Go customers were unable to watch the first two hours of the Black Caps game against Australia at Eden Park because of technical issues.
"The hardest thing to do in the world is to stream live sports ... we recognise our subscribers like it so we're going to continue to endeavour to do well at it. But like I said, the last time it went down was in February so we've made some good headway ... we'll continue to get better at it," he said.
"The easiest thing to do would be just to stop SkyGo but I think those that have it love it and want us to keep endeavouring to keep it going."
There's an outage affecting SKY Go at the moment. Our tech team is working to get this resolved ASAP. Apologies for any inconvenience.

— SKY New Zealand (@SKYNZ) May 31, 2016
Sky Go not working? Colour me shocked.

— Patrick Barnes (@patrick478) May 31, 2016
@skysportnz the NBA season will be over by the time my #skygo feed loads #skystop

— Matt Rowe (@oldmatty) May 31, 2016
If only The Bachelor screened only on #SKYGo

— Sports Freak (@Sportsfreakconz) May 31, 2016
Ironic that #sportforeveryone started trending about the same time that @SKYNZ's #SkyGO started giving sport to no-one

— Brendon Trass (@brendontrass) May 31, 2016
@SKYNZ #skygo disappointing punters since ages ago ?? pic.twitter.com/GQwtsj6NGe

— Conrad Rieter (@crad01) May 31, 2016
Halftime in the basketball......still no #SkyGo @SKYNZ

— Jaimie (@jaimiekeay) May 31, 2016
Don't worry everyone, #SkyGO will be back up and running in time for the Pro Kabaddi finals

— Brendon Trass (@brendontrass) May 31, 2016
In keeping with its tradition around major sporting events, Sky Go is unreachable.

— Russell Brown (@publicaddress) May 31, 2016
Everyone, take it easy. Sky Go is great just as long as you don't want to watch live sport.

— Adrian with a W (@AdrianwithaW) May 31, 2016
#SkyGo is down just in time for game seven #OKCvsGSW. I'm not even surprised pic.twitter.com/3zE81WRSAP

— Nadia Foskett (@KissMyArceus) May 31, 2016
I want NBA... this is crappy... come on #skygo @skysportnz

— Beau Parbhu (@BeauParbhu) May 31, 2016
#skygo we'll only let you down when it really matters, following #OKCvsGSW (on Twitter)

— Richard Loffhagen (@catering_4_chch) May 31, 2016
Award winning Radio Sport journalist Charlie Bristow had the best tweet of the day, photoshopping the iconic Crying Jordan meme onto the SKY GO logo.
May 31, 2016