A Westpac teller has been suspended and an investigation is under way after the bank's fraud team detected thousands of dollars of "unusual spending" in a customer's accounts. The bank is refunding Auckland woman Heather Ireland thousands of dollars after cash withdrawals were allegedly made from her account and other money was spent on shopping sprees.
The Herald on Sunday can reveal the bank worker under investigation is Kowhai Goodenough, 28. She joined Westpac's Onehunga branch as a customer banking consultant in August 2014. She declined to answer Herald on Sunday questions about the matter, and instead directed them to her employer.
A Westpac spokesman said the bank had picked up "unusual spending activity" in a customer's accounts which had sparked a "thorough, ongoing investigation".
"This has subsequently led to an employment process which is under way," the spokesman said.
Ireland said she trusted Goodenough and the experience had left her shaken.
Ireland, 49, cares for a child with cerebral palsy, and said her initial dealings with Goodenough in 2014 had been very positive. She had helped set up a range of automatic payments to better manage bills.
"It was awesome. I felt like my life had come together, and she'd got me on to the straight and narrow."
Ireland said she was "not a money person" and relied on bank staff for help with many transactions.
She claimed her relationship with Goodenough changed markedly in February when she put her house on the market to free up equity by moving to Whanganui.
"She was ringing the whole time, offering help and pointing out things I should buy," she said of Goodenough.
With hindsight, Ireland saw the behaviour as self-centred. "I feel like she was grooming me. She was pushing me to buy, buy, buy - I even ended up with an $800 vacuum cleaner," she said.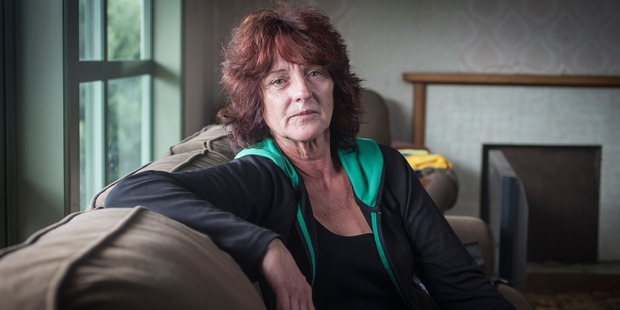 A review of Ireland's bank account activity by the Herald on Sunday shows a rise in outgoings between late February and early April, dominated by thousands of dollars of cash withdrawals, transfers and payments to daily deal sites, which Ireland said she had not authorised.
Three automatic repayments for loans, which Ireland said she had no knowledge of, ate up nearly half of her regular income from Work & Income. Several cash withdrawals match up with the time Ireland claims she made payments - around $1000 in total - after allegedly being asked by Goodenough for cash loans.
Ireland claimed although Goodenough had talked to her about some of the daily deal purchases later delivered to her, many were a surprise and had been sent directly to the bank worker's home.
"My son is in a wheelchair. What does he need a bike stand for?" Ireland said of one such purchase.
"I felt sick, I felt sad. 'This can't be happening', I thought."
She feared being left short-changed by the experience, but Westpac assured her she would not be. "All related transactions are being fully reimbursed to the customer," a bank spokesperson said.
Goodenough, understood to be suspended by Westpac earlier this month, was unwilling to talk when approached this week.
"Sorry I can't speak with you. Can you please leave," she said.