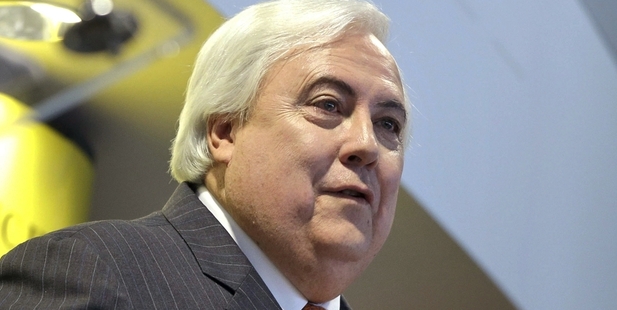 Outspoken Australian tycoon Clive Palmer has labelled the Chinese Government "mongrels" who "shoot their own people" in a televised tirade that was criticised by Canberra yesterday as "hugely damaging".
The billionaire politician, who was elected to Parliament last year as leader of the Palmer United Party also called the Chinese "bastards" who "want to take over this country".
The mining baron is locked in a long-running dispute over royalties and port operations with Hong Kong company Citic Pacific over its Sino Iron magnetite project, a partnership with China's state-owned Metallurgical Group.
Citic is mining for magnetite iron ore on Palmer's sprawling cattle farm under a 25-year lease. But the two sides have clashed over what share of the proceeds are owed to Palmer and whether his company, Mineralogy, is the legal operator of the project's export terminal at Port Preston.
Citic has also accused Mineralogy of siphoning off millions of dollars from a business bank account to fund Palmer's election campaign. Palmer denies the allegations, and told the ABC's Q&A current affairs panel discussion on Monday he was "owed about A$500 million by the Communist Chinese government".
He said: "We'll be suing them and they'll be answering the questions. We've had three judgments in the Federal Court and the Supreme Court of Western Australia and an arbitration against these Chinese mongrels - I'm saying that because they're Communist, they shoot their own people, they haven't got a justice system and they want to take over this country ... they want to take over our ports and get our resources for free ... I don't mind standing up against the Chinese bastards."
Treasurer Joe Hockey said Palmer's comments were hugely damaging and urged him to tone down his rhetoric against Australia's largest trading partner. Foreign Minister Julie Bishop said she would tell the Chinese Embassy that "these views are not representative of the Australian Parliament and I don't believe representative of the Australian people." A spokesperson for the Chinese Embassy called Palmer's comments "absurd" and "irresponsible", the ABC reported.
Palmer yesterday tried to play down his comments, tweeting that they were "not intended to refer to Chinese people" but to Citic. But he wasn't helped by one of his senators, Jacqui Lambie, who said she strongly supported her leader's comments about "China's military capacity and threat to Australia".
"If anybody thinks we should have a national security and defence policy that ignores the threat of a Chinese communist invasion, you're delusional and got rocks in your head," she said
The Tasmanian is a ex-Australian Defence Force non-commissioned officer. She said China is controlled by "an aggressive, anti-democratic, totalitarian government. We need to double the size and capacity of our military right now."
- AFP, AP, AAP