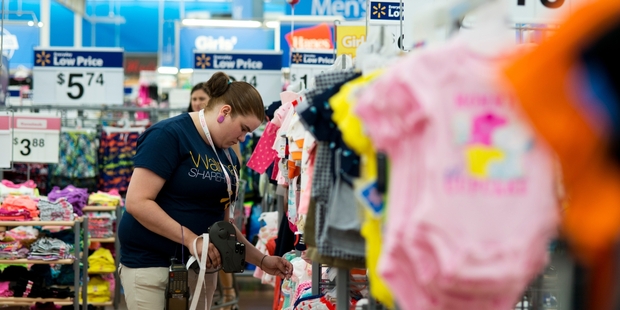 Wal-Mart Stores has cut its annual profit outlook as the world's largest retailer faced another quarter of sluggish sales and traffic declines.
Wal-Mart eked out a 0.6 per cent increase in second-quarter profit and reported that a key revenue measure was flat in its US discount business, after falling for five straight quarters.
The company also reported its seventh straight quarter of traffic declines at its US Wal-Mart stores.
The results show the challenges facing Wal-Mart's new management team. Doug McMillon, who was head of the company's international division, took over as chief executive in February.
The Arkansas-based company is facing challenges from a slowly recovering economy and fierce competition from the likes of online king Amazon.com, dollar stores and grocers. It's also dealing with a shift among shoppers seeking the convenience of small stores or buying on their mobile devices and PCs.
Wal-Mart's low-income shoppers, who on average make US$45,000 ($53,000) a year, were squeezed by the recession that began at the end of 2007 and have struggled to recover since it ended in 2009. While the job and housing markets are rebounding, low-income shoppers have not benefited and continue to struggle to stretch their money between paycheques.
Analysts believe that competition will get even more intense heading into the final months of the year.
In February, Wal-Mart announced that it will more than double its expansion plans for its Neighbourhood Markets and Wal-Mart Express smaller stores that cater to shoppers looking for more convenience with fresh produce, meat and household and beauty products.
Wal-Mart has also vowed it will be moving more quickly to bring e-commerce together with physical stores to better serve shoppers.
Wal-Mart reported that its global e-commerce sales rose 24 per cent on a constant currency basis during the second quarter, with double-digit growth in the US, United Kingdom, China and Brazil.
Wal-Mart has also been sharpening its focus on everyday low prices.
Still, the challenges played out in the company's financial results.
The company reported net income of US$4.09 billion, compared with US$4.07 billion in the same quarter a year ago. Revenue rose roughly 3 per cent to US$119.34 billion from US$116.1 billion in the same quarter a year earlier.
In the US, revenue at stores open for at least a year was unchanged from a year ago.
"Stronger sales in the US businesses would've helped our profit performance in the quarter," McMillon said. "We can get better operationally ... and we will."
Wal-Mart said it now expects earnings per share for the year to be in the range of US$4.90 to US$5.15 per share. That's down from its previous guidance of US$5.10 to US$5.45 per share.
- AP