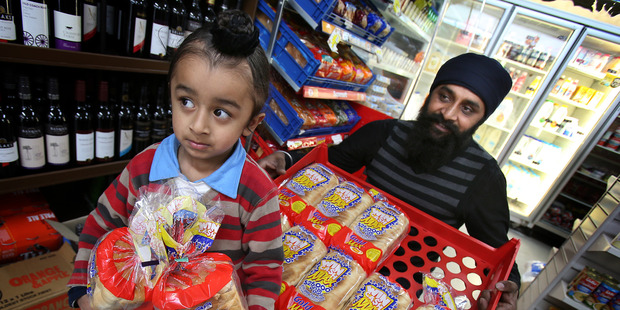 Bay of Plenty dairy owners say loss-leading supermarket bread deals are hitting them in the pocket.
Papamoa Superette owner TJ Shah said no one was winning selling bread for $1.
"Basically they are trying to kill us and hopefully they will realise that.
"It doesn't make much of a difference to them as they can put up a good fight and it's the little fellows that are suffering."
Mr Shah said he sold $1 loaves of bread for a week and lost more than $300.
"I did it to make sure I was rotating stock but it starts adding up when you lose 50 cents a loaf. Now I have cut my bread order from 50 loaves a day to 10.
"I mean it's not just the bread but everything else that goes with it and you see less and less traffic."
He was also concerned about the longevity of the $1 bread campaign and whether other food staples would be sold on the cheap. The campaign was launched a month ago and nutritionists spoken to by the Bay of Plenty Times questioned the cheap bread's nutritional value.
Viking Dairy owner Lee Young said it was only making 10 cents a loaf on its Gold Max, which sold for $1.90.
"It is having an effect on us as there are not as many customers buying bread."
She said she was told supermarkets could undercut the cost of bread because of the sheer volumes it sold.
"I don't understand. It's not fair on the little people."
Cambridge Heights Foodmarket owner Balkar Singh said it had hurt his business "a little bit" but customers had voiced their concerns about the quality of the cheap supermarket loaves.
"Customers have told me they prefer Gold Max or Rivermill because the quality is better and they don't mind paying more."
Its Gold Max loaves were selling at two for $3.50 while Rivermill by Quality Bakers was $2 a loaf.
The dairy was still ordering the same amount of bread, he said but profit margins were "very small".
Last week, Bay schools expressed a mixed response to the cheaper bread's impact on young children who used to come to school without lunches.
Super Clearance and Convenience Store owner Jugraj Singh said "heaps" of its customers had commented about the taste of the budget bread available at the supermarkets.
Bread sales had gone down slightly especially in the first week that the supermarkets launched its campaign, he said.
But it was getting better.
"Customers are telling us the budget breads are not really good and they are getting sick of them. We are now getting those people back."
However, Mr Singh concedes that he's making zero profit on the bread he's selling at $1.29 a loaf.
$1 bread
Countdown: Homebrand bread
New World: Budget bread
Pak'n Save: Budget bread

Read also:
• Cheap bread stays as supermarket war wages
For more articles from this region, go to Bay of Plenty Times