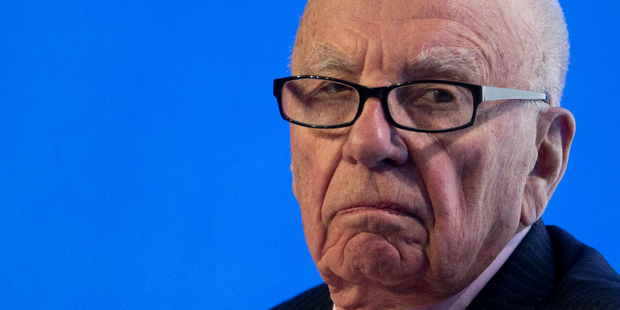 Twenty-First Century Fox Inc. executives said Wednesday that the company won't try to buy any other big content companies, a day after it called off its pursuit of rival media giant Time Warner Inc.
Fox Chief Operating Officer Chase Carey said on a conference call with analysts that "we have no plans to pursue any other third-party content company as an alternative to Time Warner."
Upon being questioned whether all small acquisitions were out of the question, CEO Rupert Murdoch, responded, "If there was something very unique but small, I don't know, I wouldn't say never. But we have no plans to go out on the acquisition trail."
The owner of Fox News Channel and the 20th Century Fox movie studio ended its $76 billion bid for Time Warner Inc. after the New York company behind HBO and the Warner Bros. movie studio rejected its offer. Fox's stock had dropped, making a cash-and-stock deal more difficult. Instead, Fox offered $6 billion in share buybacks over the next 12 months.
Both the Time Warner and Fox CEOs said that the companies were big enough already. Fox executives said that Time Warner had represented a unique opportunity.
As for Time Warner: "We're not lacking something that we need," CEO Jeff Bewkes told analysts on an earlier conference call Wednesday.
Fox shares rose 4.1 percent to $33.65 in after-hours trading Wednesday after reporting better-than-expected fourth-quarter earnings. They had gained 3.3 percent to $32.33 in the regular session. The stock is still short of its close of $35.19 on July 15, the day before Fox made its initial bid for Time Warner public.
The New York-based company's net income in the three months to June 30 came to $999 million, or 45 cents per share, compared with a loss of $371 million, or 16 cents per share, in the same quarter a year ago.
Excluding one-time events, adjusted earnings came to 42 cents per share, beating the 38 cents expected by analysts polled by FactSet.
Revenue rose 17 percent to $8.42 billion, also above the $7.99 billion expected by analysts.
Fox rationale for Time Warner bid unraveled with share drop
For 21st Century Fox, zero hour was scheduled to arrive at 4:30 p.m. Wednesday with the media company's quarterly earnings call. Chairman and Chief Executive Officer Rupert Murdoch, President and co-Chief Operating Officer Chase Carey and other Fox executives knew investors would be focused on the company's $75 billion pursuit of Time Warner.
As Fox and its advisers prepared for the call and the remarks they would make, they began to conclude they wouldn't succeed in the chase and should say so in advance, said several people familiar with the matter. While the buyout plan unraveled, Tuesday's abandonment of the bid sent Fox shares rocketing. Time Warner, meanwhile, lost most of the gain it enjoyed while CEO Jeff Bewkes fought off Fox's bid.
No one event changed Fox's thinking, the people said -- rather a gradual realization over several days that there wasn't going to be a deal that would benefit investors of Fox. Large and small shareholders of both companies, especially arbitrage or event-driven market participants, assumed the deal would get done in the upper $90-a-share range and traded accordingly, said one of the people.
While the proposal had merit, Time Warner refused to negotiate, Murdoch said in a statement. "Additionally, the reaction in our share price since our proposal was made undervalues our stock and makes the transaction unattractive to Fox shareholders," he said.
Since the bid was made public on July 16, a handful of Fox executives -- Murdoch, 83; Carey; Chief Financial Officer John Nallen; and two of Murdoch's sons, co-COO James Murdoch and Fox non-executive co-Chairman Lachlan Murdoch -- considered whether to make another offer, according to the people. They came close to doing so and were weighing a bid for as much as $95, but reconsidered when they saw the stock's reaction, the people said.
During that period, shares of New York-based Fox mostly fell. As of Tuesday's close, the company, home to Fox News, FX and Fox Sports 1, had declined 11 percent to $31.30 since July 15. Time Warner, also based in New York, surged 20 percent to $85.19. Wednesday, Time Warner dropped 10 percent to the equivalent of $75.96 at 9:55 a.m. in Frankfurt, and Fox climbed 6.6 percent to the equivalent of $33.49.
As a result, a higher bid that would include Fox stock became even more expensive and less attractive for its shareholders, said the people. Fox was unable to convince investors on either the Fox or Time Warner side that Murdoch would be disciplined in bidding, said two of the people. The expectation he would go higher, perhaps to $100 a share, pushed Fox shares down and Time Warner up.
Furthermore, Time Warner was unwilling to engage at all after rejecting the bid in a terse letter and brief phone call last month, said one of the people. Murdoch wanted to make it a friendly deal, this person added.
Fox had assumed a bump from $85 a share would eventually be likely. However, doing so became more of a challenge given the market and investor reaction to the deal, said the people. Investors didn't challenge the industrial logic or cost-cutting that could come from the deal, the people said.
Fox anticipated a new bid would have to be at least $90 a share and include more cash to get Time Warner interested, said one of the people. However, to replace shares with cash would likely have turned the deal from about two-thirds stock to an almost 50-50 offer. That would push Fox to leverage of five times earnings before interest, taxes, depreciation and amortization, a debt threshold the company wanted to avoid.
The final decision to abandon the bid was made on Aug. 4 on the Fox lot in Los Angeles, said one of the people. Murdoch's inner circle met after he returned from a Fox Sports retreat, from which he tweeted a picture of himself with National Football League Commissioner Roger Goodell. Fox wanted to be in control of its own destiny, the person said.
Carey was the main driver behind the plan to buy back stock, the people said. There was no last attempt to negotiate with Time Warner, according to one of the people. While Murdoch and his lieutenants viewed a merger with Time Warner as a unique opportunity, they never saw it as a necessity, the person said.
Tuesday the company had its scheduled annual summer board meeting, attended in person by all the directors.
In extended trading after Tuesday's announcement, Class A nonvoting shares of Fox surged as much as 11 percent to $34.71. Time Warner dropped as much as 14 percent to $72.85.
Fox will now focus on its $6 billion stock buyback and its own stand-alone plan, the people said. It has no plans to come back at Time Warner or to pursue another deal, they added.
-Bloomberg, AP