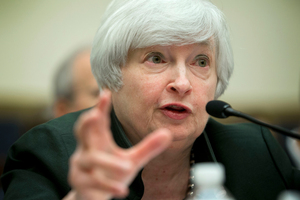 The US economy kept expanding in all regions of the country in June and early July, helped by strength in consumer spending, a Federal Reserve survey indicates.
All 12 of the Fed's regions reported growth with five - New York, Chicago, Minneapolis, Dallas and San Francisco - characterising growth as "moderate" while the others reported "modest" growth.
The Fed's survey, known as the Beige Book, will be used by central bank officials when they meet later this month to review interest rate policies.
Analysts expect that the Fed will keep its short-term interest rate at a record low near zero and authorise another reduction in its bond purchases aimed at keeping long-term interest rates low.
Federal Reserve chairwoman Janet Yellen, who spent two days delivering the Fed's twice-a-year policy report to Congress, emphasised that despite recent gains in employment, the central bank was in no rush to withdraw the massive support it is providing to the economy.
The Fed has kept its benchmark short-term rate at zero since December 2008 and many analysts believe the first rate increase is still about a year away.
The report said consumer spending had increased in every district with car sales generally stronger than other retail sales.
Tourism remained strong with hotels in the Boston, New York, Atlanta and Minneapolis districts describing room demand as robust.
The report said many districts reported low inventories of homes for sales and rising house prices. But Boston, New York and St Louis said that sales were below year-ago levels.
All 12 districts reported job gains with several districts saying that businesses were reporting difficulties in filling positions for skilled workers. Wage pressures remained modest.
The Fed beginning in December started reducing its monthly bond purchases which have been aimed at keeping long-term interest rates low. Yellen said this week that Fed officials expect to wrap up those purchases at the October meeting.
The Fed has repeated that the federal funds rate, the key short-term interest rate it controls, will likely remain near zero after the bond purchases end.
But Yellen has said that if labour market conditions improve more quickly than the Fed anticipates, the central bank could boost short-term rates sooner and more rapidly than currently expected.
- AP