Despite low inflation economists say Reserve Bank will raise rates, but maybe for last time this year.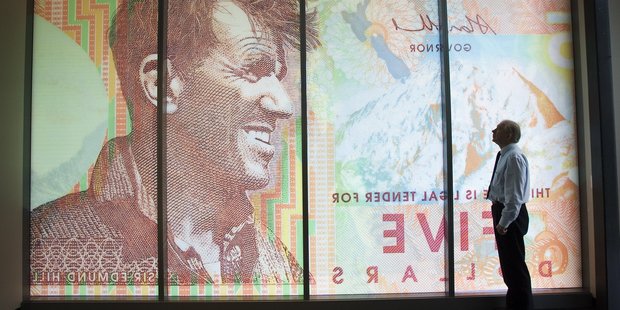 Economists still expect the Reserve Bank to raise its official cash rate to 3.5 per cent next week, but are questioning the case for another increase before the end of the year, following benign inflation numbers in the June quarter and export dairy prices dropping with a thud.
Statistics NZ yesterday reported an annual inflation rate of 1.6 per cent, up from 1.5 per cent three months ago but lower than the Reserve Bank's forecast of 1.7 per cent and market expectations of 1.8 per cent.
Non-tradeables inflation, which represents the 56 per cent of the consumers price index where international prices and the exchange rate have no bearing, was 0.4 per cent in the quarter, making 2.7 per cent for the year - the Reserve Bank had expected 0.6 per cent and 2.9 per cent, respectively.
That positive surprise on the domestic inflation front, hard on the heels of a further and steep price drop in Fonterra's fortnightly dairy auction - which has significant implications for spending power in the economy down the track - has left market economists increasingly confident of a pause on the monetary policy tightening track after next week's official cash rate review.
"Inflation may remain muted but we still think the Reserve Bank will need to push rates higher again when it announces its July OCR review on the 24th," said Bank of New Zealand head of research Stephen Toplis.
"It's simply too early to back off its stated tightening cycle when domestic demand remains so robust. Moreover, the market has an 80 per cent chance of a hike already priced in.
"This means that if the bank didn't go, market interest rates would actually fall."
But a further OCR rise in December was very much open to debate, Toplis said.
"We are forecasting a significant currency response to the fall in commodity prices but if it doesn't happen, something else must give," he said.
"That something would most likely be reflected in a lower interest rate track than we are currently forecasting, meaning that the market is right at this stage to be pricing in a roughly 50/50 chance of only one further rate hike in 2014 post the increase penned in for July."
Housing-related prices, which make up 24 per cent of the CPI, accounted for much of the June quarter's inflation outcome.
Construction costs rose 1.2 per cent in the quarter, making 4.6 per cent for the year. But the rate of construction cost inflation has not increased and in Canterbury it has been easing, from an annual pace of 12.2 per cent in March last year to 6.4 per cent now.
A seasonal flurry of increases from the power companies saw electricity prices climb 4.2 per cent in the June quarter, making 4.5 per cent for the year. Rents rose 0.6 per cent in the quarter making 2.2 per cent for the year.
But cars and the fuel to keep them going fell in price, and tradeables inflation generally was up 0.2 per cent for the quarter and just 0.1 per cent for the year.
The Reserve Bank's preferred measure of core inflation was the same as the headline rate, 1.6 per cent.
ANZ chief economist Cameron Bagrie said strengthening demand for labour would eventually flow through to higher wage inflation but there were no immediate warning signs on the services front, with prices unchanged overall in the quarter and up 2.3 per cent for the year.
"After hiking in July we expect the Reserve Bank to pause until at least the end of the year to assess the activity and pricing outlook," Bagrie said.
"Further tweaks to the OCR lever are likely over 2015, but we envisage a more moderate profile of OCR tightening, with the speed and magnitude of further moves conditional on local and global developments, including the trajectory of the New Zealand dollar."