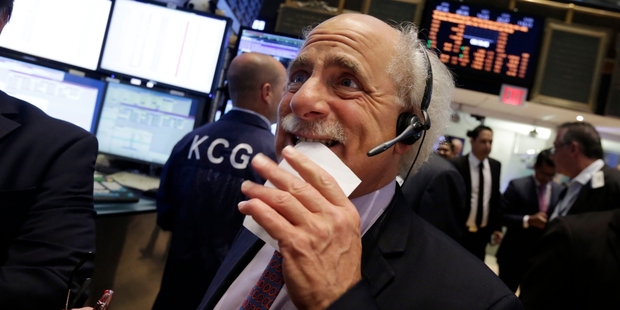 United States stocks finished a week of mixed economic data with a split decision as the Nasdaq scored gains while the other two indices retreated from records.
The Dow shed 95.24 points (0.56 per cent) to finish at 16,851.84, while the S&P 500 dipped 1.91 (0.10 per cent) to 1960.96. Both indices finished the previous week at record highs. The Nasdaq advanced 29.89 (0.68 per cent) to 4397.93.
The tech-rich index picked up momentum in part due to the highly successful initial public offering of action video camera maker GoPro, which gained nearly 50 per cent from its IPO price in its first two days of trading.
Analysts said stocks were still fairly well positioned for further gains given confidence in the economic recovery and somewhat lower anxiety on Iraq, as evidenced by an ebbing of oil prices.
"This bull market remains intact because investors believe we are moving further and further away from a recessionary potential," said Sam Stovall, chief investment strategist at S&P Capital IQ.
Still Stovall said some of the week's disappointing economic data was a "bit unnerving" and suggestive of "a half-speed recovery mode".
The week's most dramatic bit of data was Thursday's report that US gross domestic product fell at a 2.9 per cent annual pace in the first quarter of 2014, much worse than the previous estimate of 1 per cent and the sharpest decline in five years.
Analysts, while shocked at the report, said it had minimal implications for stocks.
"It was a surprise," said Bill Lynch, director of investment at Hinsdale Associates. "But it should really be irrelevant because it's in the past."
Among other data, reports showed new home sales in May reached their fastest pace in six years and that US consumer confidence in June jumped to its highest level since January 2008.
But US consumer spending, which accounts for more than two-thirds of US economic activity, rose a mere 0.2 per cent in May after a flat April. Analysts were also disappointed at a 1 per cent drop in durable goods orders for last month.
The week's corporate news included more takeovers, which have helped propel the broader market this year, analysts said.
The pace of US merger and acquisition activity in 2014 "continues to marvel and amaze", said a report from S&P Capital IQ. The report said the US market was on pace to notch its first US$1 trillion-plus year since 2007.
The week's most closely watched release, the monthly jobs report for June, will be out on Friday on the eve of the Independence Day holiday. With trading volume likely low generally for the holiday week analysts said a surprise result could jolt the market.