Software company's chief turns his focus back to growth plan after listing completed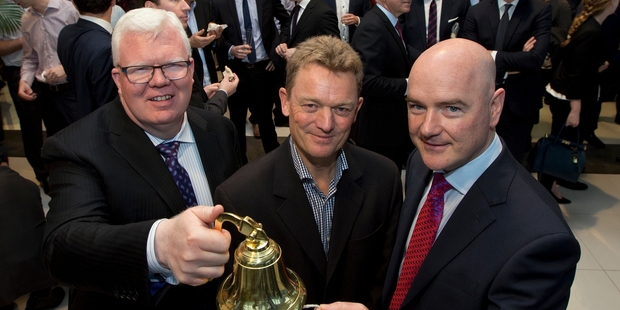 With Gentrack's sharemarket listing done and dusted, chief executive James Docking says his focus is firmly back on growing the business.
Several big deals were being negotiated, he said, while the technology company was also eyeing new markets and on the lookout for potential acquisitions.
Shares in the Auckland-based developer of management software used by water and energy utilities, as well as airports, closed at $2.49 last night - a 3.7 per cent premium to the $2.40 offer price - after rising as high as $2.60 immediately after the listing.
Gentrack's dual NZX/ASX float got off to a much better start than corporate travel booking software firm Serko, whose shares plunged by almost 14 per cent after the company's listing on Tuesday. Serko shares rebounded yesterday, closing up 6.3 per cent at $1.01, but still below the $1.10 issue price.
Docking said Gentrack, whose competitors include software giants Oracle and SAP, was having success in winning bigger deals with larger customers and becoming a listed business would give potential clients more confidence in the firm.
"We've got quite a few big deals we're working on, particularly in Australia and the UK."
In the longer term, he said, the company could move into new markets including North America and Scandinavia.
Docking said the company, founded in 1989, was on the lookout for potential acquisitions of "boutique" software firms whose technology could bolt onto Gentrack's offering.
Gentrack's software is used in 150 utility and airport sites around the world. Energy utilities using its technology include Genesis Energy, Meridian Energy and Vector in New Zealand and Origin Energy and Alinta in Australia. Its software is used by international airports including Hong Kong, JFK in New York, Newark Liberty, Sydney, Melbourne and Birmingham, as well as Auckland, Christchurch and Wellington.
Matt Goodson, managing director at Salt Funds Management, said Gentrack's listing had been solid.
"[Gentrack] is a good, cash-generative business with a long-term track record," he said. "It's exactly the sort of business that should be on the NZX."
Unlike Serko, which is expecting losses for at least two years as it chases growth, Gentrack is profitable and anticipating dividend payments.
The company has forecast a net profit of $3.7 million for 2014, rising to $9.3 million in 2015.
Gentrack raised $36 million in new capital through the listing, which will be used to pay down debt. Existing shareholders, who will retain a 43.2 per cent stake in the company, sold 26.3 million shares, taking the total offer size to $99 million. The $2.40 issue price valued the company at $174.5 million.