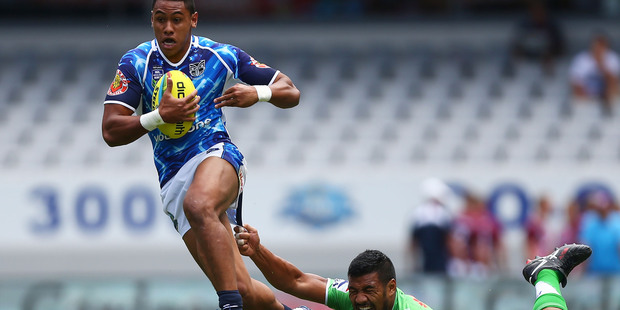 This year's NRL Nines tournament has delivered a healthy $9.35 million back in to the Auckland economy - more than double the expected return.
"The NRL Auckland Nines has blown away all its first year targets," Auckland Mayor Len Brown said this morning.
"It once again illustrates the value of major events to this city and proves that with the right concept and support Auckland can develop its own events with great outcomes."
In addition to being well attended by Aucklanders, the event attracted 16,000 Kiwis from around the country with more than 6,000 people making the trip across the Tasman.
Live television coverage was watched by more than 1 million viewers in Australia - one of our key tourism markets.
Auckland Tourism, Events and Economic Development invested a total of $3 million into the 2014 tournament.
ATEED Chief Executive Brett O'Riley says this success could only be achieved through strong partnerships between event promoters as well as private and public sector partners.
"The $9,351,000 GDP impact is all the more impressive when you consider we forecast $3.8 million in year one rising to $6.8 million in year five," O'Riley said.
The report comes just as a potential Eden Park scheduling conflict around the 2015 tournament has been revealed.
Read also:
• Diary clash threatens NRL Nines
The tournament is under threat next year because of an impasse between the National Rugby League and organisers of the Cricket World Cup over the availability of Eden Park.
The contract between Eden Park and Cricket World Cup 2015 states the ground must not host any events in the 30 days leading up to the first match between New Zealand and Australia on February 28, effectively locking down Auckland's biggest stadium from January 27.
The Herald has been told the NRL will not allow the Nines to be staged before January 30, with the deadlock placing the 2015 tournament in jeopardy.
The Auckland NRL Nines tournament has also been named a finalist in the inaugural Local Government New Zealand (LGNZ) Excellence Awards.
"In a post-event survey, 94 per cent of ticket holders said they would be keen to come again to the next event, which shows how much the community embraced the new competition," LGNZ President Lawrence Yule.
ATEED NRL Nines investment over five years (2014-2018)
• Sponsorship commitment totalling $9 million
• Leverage budget totalling $3 million
ATEED NRL Nine 2014 investment
• $2.25 million sponsorship fee
•$750,000 leverage programme

Read today's ATEED announcement here: