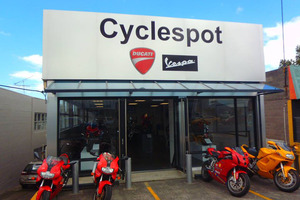 Build it and they will come. For Grant Woolford there's never been a truer word spoken.
In the teeth of a global recession, the principal of Auckland motorcycle dealership CycleSpot decided not to retrench but to expand, creating a bigger, better and more generously stocked showcase store on Barry's Point Road in Takapuna.
"Everyone else was shrinking, and we thought that if we could create something pretty cool for people, then they'd come," says Woolford, who started out as an apprentice bike mechanic in the early 1990s before buying his first store 12 years ago, then opening a second, in Warkworth, in 2007.
The counter-intuitive move paid off handsomely: in the past three years, Woolford has been able to add two new stores to the stable on Barry's Point Road. A third (taking the CycleSpot tally up to five) is due to open this month and will specialise in Indian and Victory bikes - a first for New Zealand.
The added visibility attracted the attention of prestige brands BMW and KTM.
"It gave us an opportunity to take those two brands and open a store just for them. So now we make stores for brands: Ducati is in with Vespa, following the Italian theme, and BMW and KTM are in together, which works well, too, because the same customer may have a BMW road bike and a KTMfor offroad."
CycleSpot's turnover, meanwhile, has tripled in the past four years.
"The New Zealand motorcycle market halved over that time, but we seemed to battle through it because, I think, we are really specialised in what we do and we have a really good team of positive people. Nothing is a problem; we always focus on the solution. For us, it's not about the problems but how you fix them. As a result, our biggest form of marketing is word of mouth," Woolford shares.
Only a sanguine soul could have predicted that an enterprise selling top-end motorcycles in a barely post-recessionary economy would prosper. But that's Woolford.
"With me the glass is always half-full, definitely. I do think big. If you keep your business skinny, then that's how it will stay, in my opinion."
That bullishness is not his alone. According to a recent survey of New Zealand's Mid-Market businesses (companies that turn over $2-50 million, a small but disproportionately productive player in the economy), mid-sized Kiwi firms are generally more optimistic about growth prospects than their smaller and larger counterparts. The GE Capital New Zealand Mid-Market Report 2014 notes that two-thirds have growth as their main focus for the year, with 55 per cent of the mid-market expecting more than three per cent domestic revenue growth.
Woolford hopes to increase turnover by an additional $2-4 million next year, helped by favourable market trends such as the ongoing nightmare of traffic in Auckland, where CycleSpot does the vast bulk of its business ( who hasn't watched a motorcylist weave his way through a tailback with envy?).
Additionally, the rising cost of fuel makes a motorbike an increasingly attractive option.
The buying power of baby boomers is also helping to sell bikes, particularly pricier European brands. "We get a lot of customers in that 50-65 year old bracket. They're pretty well sorted financially."
Finally, there's the rise of the female biker. Where once CycleSpot might have stocked a handful of women's jackets, says Woolford, "now we have women working in accessories in our company and 'girl zones' in the shops. We're seeing many more women coming in to buy bikes as well."
Nevertheless, Woolford's not about to rest on his laurels. Quality product and customer service are the key to continued success, he says, echoing the sentiment of most growth-focused mid-market firms canvassed by the GE Capital survey.
"We have 30 staff and they are an absolute must for us. They all ride, and they live and breathe motorcycles. It's crucial. These days, because of the internet, you have to be sharp; you get found out very quickly if you don't know your stuff."
Not so much a case of build it and they will come, in the end, but sell with conviction and they will buy.