Hearing date now being sought in the High Court for Rainbow's End co-founder Ken Wikeley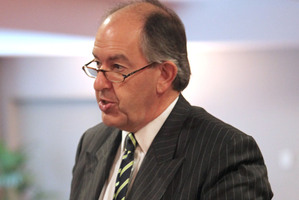 A businessman who co-founded Auckland's Rainbow's End theme park and was involved in a string of back-door NZX-listings has lost a Court of Appeal case about a bankruptcy notice served against him after "economic misadventure" in Chile.
A hearing date is now being sought in the High Court where creditors will apply to have Ken Wikeley declared bankrupt, according to a lawyer associated with the case.
Wikeley helped facilitate the back-door-listing of numerous companies — including the now-failed text messaging company Plus SMS, which he induced his friend and associate Michael Jacomb to invest in.
Wikeley also induced Jacomb to invest in a company called Orion Minerals Group.
In 2008 Jacomb agreed to invest $250,000 in this company on behalf of the Genset Trust, of which he is a trustee.
Orion had mining interests in Chile and on a trip to the South American country that same year, Wikeley interested Jacomb in a separate venture involving a rock crushing machine belonging to a German-Iranian businessman named Parvis Gharagozlu.
Wikeley and Jacomb used a company called Edel Metals Group to negotiate with Gharagozlu and his associates for the purchase of the crusher technology and between December 2008 and May 2009, the Genset trustees loaned US$1.5 million to EMG.
Wikeley — who later claimed in court these funds were for shares of EMG - personally guaranteed half of the advances. EMG's venture did not prosper, the company failed to pay back the loan and Genset's trustees — including Jacomb — chased Wikeley in the High Court seeking payment under the guarantee.
Justice Stephen Kos issued judgement in favour of the trustees for US$862,534 in April last year.
The trustees last August issued a bankruptcy notice against Wikeley, which he applied to set aside in the High Court.
This was dismissed last November and Wikeley then took the matter to the Court of Appeal, where his case was declined last week. Wikeley is believed to be overseas.
Prior to his involvement in Plus SMS, Wikeley was the managing director of Shanghai aquarium company Aquaria 21 — a business which at one point included Eric Watson as a major shareholder.
With Craig Heatley, Wikeley co-founded Auckland's Rainbow's End adventure park in the early 1980s.