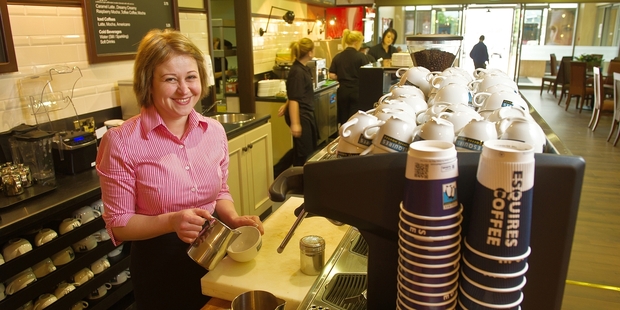 Cooks Global Foods, the New Zealand franchisor of the Esquires cafe chain in markets outside Australasia, is poised for North American expansion after completing its purchase of the Canadian rights for the coffee brand.
The latest acquisition follows the NZAX-listed company's buy-out of the global master franchising rights for Esquires, excluding New Zealand, Australia and Canada, last year.
Securing the Canadian rights for C$225,000 ($238,000) means Cooks will license back to Esquires Canada the right to operate nine existing stores in British Columbia, as well as a master franchise agreement for Alberta.
The Canadian firm is the brand's original franchisor, which founded the chain in 1993.
"Our strategic objective for Cooks in entering this arrangement is to expand into Canada on our own account, building a presence across that market, including in new provinces and territories," said Cooks chairman Keith Jackson.
The Coffee Association of Canada estimates the Canadian coffee market, excluding grocery and office sales, is worth up to C$4 billion.
Jackson said the company was targeting expansion into Ontario and Quebec and there was scope to open five to 10 stores annually in that country, the first of which could open this year.
Cooks would grant master franchise licenses for Canadian provinces, he said, adding that the New Zealand firm may open company-owned stores in Canada and then sell them on to franchisees.
Jackson said there was also an opportunity for Cooks to take Esquires into the United States.
Cooks acquired the global rights to the coffee chain last year from brothers Stuart and Lewis Deeks.
The brothers, who both have seats on Cooks' board and major shareholdings in the listed firm, established Esquires in Australasia before selling the franchise rights on both sides of the Tasman to ASX-listed Retail Food Group in 2011, while retaining the rights to the rest of the world.
Stuart Deeks said it was "extremely pleasing" to complete the Canadian deal.
"It's not only a symbolic step for Cooks - it's also a milestone as we have successfully concluded our plan to tidy up the international IP outside of Australasia," he said.
Cooks now holds the licensing rights to more than 80 Esquires stores in the Middle East, China, Britain, Ireland and Canada. The company's shares closed unchanged yesterday at 18c.