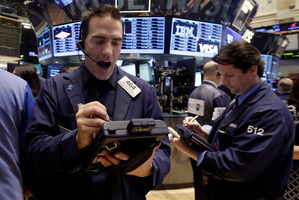 The tech-rich Nasdaq Composite Index led Wall Street sharply lower again Friday, closing out a dreary week at its lowest level in more than two months.
The Nasdaq sank 54.37 points (1.34 percent) to 3,999.73, its lowest close since February 3, when the index settled for one session below the psychologically important 4,000 level.
The Dow Jones Industrial Average tumbled 143.47 (0.89 percent) to 16,026.75, while the broad-based S&P 500 shed 17.39 (0.95 percent) to 1,815.69.
US equities were in the red most of the day, but losses deepened in the last 90 minutes of trade.
Highflying technology and biotechnology stocks are "driving an overall correction in the market,'' said Alan Skrainka, chief investment officer at Cornerstone Wealth Management.
"And how far that goes, and how fast, no one can know.''
Prominent technology names continued to slump, including Apple (-0.7 percent), Amazon (-1.7 percent), Facebook (-1.1 percent), Priceline (-1.8 percent) and Twitter (-3.1 percent).
Some names in the hard-hit biotechnology sector felt more pain, including Biogen (-4.7 percent) and Celgene (-2.2 percent). But Gilead Sciences advanced 0.8 percent.
US banking giant JPMorgan Chase led the Dow lower, tumbling 3.7 percent after earnings of $5.3 billion missed analyst estimates. The company reported a 19 percent drop in profits due to weakness in its mortgage and trading businesses.
Wells Fargo, another big bank, rose 0.8 percent on profits of $1.05 per share, beating the analyst forecast by eight cents.
General Motors endured another flogging, dropping 4.1 percent as a US congressional committee released documents that raised more questions about the automaker's handling of a major vehicle recall.
A report that Herbalife faces a criminal investigation by the FBI and Department of Justice sent shares 14 percent lower. Herbalife said it has no knowledge of the probe.
Gap fell 2.3 percent on a six-percent decline in comparable-store sales for March. Other retailers also had a bad day, including J.C. Penney (-9.6 percent), Macy's (-2.0 percent) and Target (-1.3 percent).
Bond prices rose. The yield on the 10-year US Treasury declined to 2.62 percent from 2.65 percent Thursday, while the 30-year fell to 3.48 percent from 3.52 percent. Bond prices and yields move inversely.