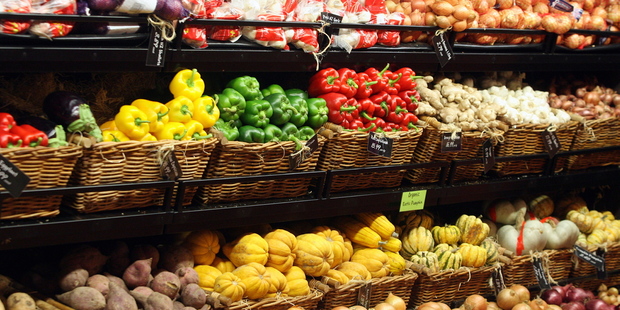 New Zealand food prices fell in March as cheaper cakes and candy drove a fall in grocery prices, and offset more expensive meat and produce.
The food price index fell 0.3 per cent in March following a 1 per cent fall in February, according to Statistics New Zealand. Food prices rose 1.2 per cent on an annual basis, the first time all five components of the index increased since September 2011.
The monthly decline was led by a 1.6 per cent drop in grocery prices to their lowest level since August as cakes and biscuit prices and confectionary, nuts and snacks both dropped 3.5 per cent. In the year grocery prices made the smallest gains of all the subgroups, up 0.2 per cent, led by an 8.8 per cent gain in fresh milk and a 7.1 per cent rise in cheese prices.
Last month the Reserve Bank embarked on a tightening cycle, lifting interest rates 25 basis points to 2.75 per cent as it tries to stem inflationary pressure in the economy. Food prices make up almost 19 per cent of the consumer price index, the inflation measure used by the central bank.
First-quarter CPI is due for release next week.
"Despite food price inflation remaining subdued, inflation indicators point to a pick-up in other inflation areas," Christina Leung, economist at ASB Bank, said in a note. "Overall, the result is in line with our expectations, and we expect the first quarter CPI released next Wednesday will show a 0.6 per cent increase."
Today's figures showed meat, poultry and fish prices rose 0.9 per cent in March, the biggest increase across the subgroups. Meat, poultry and fish prices rose 1.6 per cent, with mutton, lamb and hogget prices up 15 per cent in the year.
Restaurant meals and ready-to-eat food prices rose 0.4 per cent in March, and were up 1.9 per cent in the year, driving the annual gain.
Prices of non-alcoholic beverages increased 0.2 per cent in the month for annual increase of 2.7 per cent. Non-alcoholic beverages led the annual increase, with packaged coffee and tea prices climbing 5.3 per cent.
Fruit and vegetable prices rose 0.5 per cent in March, with cheaper apples and kumara. On an annual basis prices rose 1.5 per cent with more expensive tomatoes, oranges and mandarins.
See the latest food price stats here: