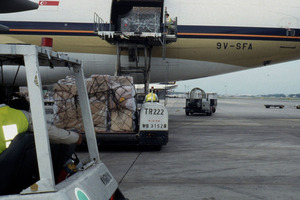 Swiss air freight company Kuehne + Nagel International has today been penalised $3.1 million by a High Court judge for being part of a "classic hard-core cartel" that used gardening codewords to try disguise itself.
Kuehne + Nagel was the last defendant in a long-standing case brought by the Commerce Commission against six international freight forwarding companies for a range of hard core cartel behaviour.
Five other freight fowarding companies settled with the commission and paid $8.85 million in penalties but Kuehne + Nagel held out and only recently admitted liability.
At a High Court penalty hearing last Friday before Justice Geoffrey Venning, the regulator and Kuehne + Nagel had agreed the appropriate penalty for the price-fixing was $3.1 million plus costs.
This penalty was ordered today by Justice Venning, which brings the total penalties for entire case to $11.95 million.
Kuehne + Nagel admitted to being part of a secret cartel that called itself the 'Gardening Club', which put in place a price-fixing arrangement to cover costs of air security measures imposed by the British Government in 2002.
"The 'Gardening Club' was a classic hard-core cartel. Members attended covert, off-site meetings outside of business hours and used code words to describe the agreed surcharges," Commission Chairman Mark Berry said today.
"Our investigation uncovered emails in which 'Gardening Club' members referred to the agreed surcharges as "...the new price for asparagus for the forthcoming season...," and "the price of marrows."
"When members lacked confidence that cartel members were performing the illegal agreement, they emailed in terms like, "I hear... concerns about the price of produce from the garden of Velcro, which appears to be operating as a charitable cooperative for the benevolence of vegetable eaters rather than growers..."" Berry said.
Berry said he was pleased this case - which began in 2007 - had come to an end:
Businesses that act anti-competitively can expect the same determination from us," he said.