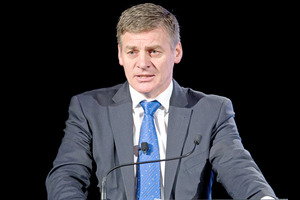 Pricing for the Genesis Energy share offer means the Government's controversial partial asset sales programme will just make it over the line for the revised $4.6 billion to $5 billion target set after Solid Energy was taken off the block.
Finance Minister Bill English and State Owned Enterprises Minister Tony Ryall last night announced Genesis shares will be sold at $1.55 each, raising $736 million for the Crown before costs.
On top of the $3.93 billion raised from the sale of 49 per cent of Mighty River Power and shares in Air New Zealand, the Genesis sale takes the total raised across the whole "mixed ownership model" programme to $4.67 billion.
The target range was revised lower after Solid Energy was withdrawn from sale after almost collapsing under almost $400 million of debt early last year.
Mr English said the programme had gone well.
"Bear in mind three years ago there was a range given of $5 billion to $7 billion and we're pretty close to the $5 billion with one less company Solid Energy which at that stage was valued at over $2 billion, so that's been successful.
"Until you go to the market, you don't quite know what they're worth and certainly in the case of these companies it turns out their value tested by the market is less than what it was in the Government's books three or four years ago."
Of the $4.7 billion raised, $2.7 billion had been raised from retail investors.
"You could I suppose have had a bit more retail, but we would have had to lower the prices to the taxpayer to achieve that."
Labour's state owned enterprises spokesman Clayton Cosgrove the Genesis announcement made it official that the asset sales programme was "a failure by any standards, especially given Morningstar valued 50 per cent of Genesis at $900 million".
"To top it off the Government has used the sales as a slush fund, linking them to every new policy while spending it on the likes of failed SOE Solid Energy, advertising materials for the sales themselves, more money for the failing UFB project and the bonus scheme for Mighty River Power.
"National promised the sales would pay for new assets. Instead they have been used to pay for the Government's mistakes."