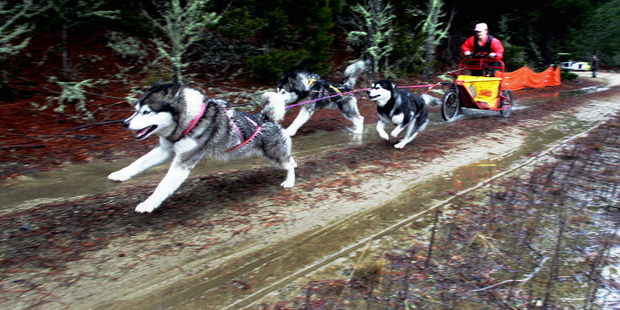 Maniototo in Central Otago seems an unlikely place to set up an online business, but for dog lover Rose Voice, the isolation has proven no barrier to success.
When Voice started racing sled dogs some 14 years ago, all of her harness equipment had to be imported from Alaska.
"I could not buy gear that wouldn't break with my team of sled dogs," Voice said.
"Being a fairly self-sufficient sort of girl I thought, 'I can make that.'"
Voice sold a litter of Alaskan Malamutes and used the money to buy an industrial sewing machine and a satellite internet connection, as broadband availability was patchy in Maniototo, and so the Real Dog Equipment Company was born.
Fast-forwarding to today, ironically Voice now sells a lot of her dog sled gear to buyers in Alaska and she runs the largest kennel of Alaskan Malamutes in the Southern Hemisphere.
But the dog sled side of her business makes up just 20 per cent of sales.
Voice says, they 'make just about everything for dogs' from heavy-duty collars and training harnesses for working dogs, collars for guide dogs, lifting strops for search and rescue dogs, to doggie backpacks, which are designed and tested on her own dogs.
And she also admits to making some strange items for customers and does some work for movie companies who have requested unusual props for dogs.
"I regularly make harnesses for pigs, goats and even rats... I have made some very successful boots, slings and prosthetic devices for dogs that have injuries." Voice said.
Both Rose and her husband Nigel now work full time in the business.
"All those first years were of a part-time nature, building products, testing products and learning my way around running a small business," she said.
Now more than 70 per cent of the Real Dog Equipment Co.'s business comes from online sales. And she says all of her marketing comes via Google Adwords and registering the business on Google Maps has really paid off after 'being burned a few times' with magazine advertising.
"The thing that appeals to me most about ad-words especially is that you control 100 per cent of your own spend and your own content at all times," Voice said.
An unexpected spin off from being registered on Google Maps is the amount of tourists who stop in to the remote kennel whilst traveling around Otago, simply 'because it popped up on their Google Maps.'
"Despite the fact we operate mainly through our website for the manufacture side of the business we are now growing our Adventure / Sled dog rides part of the business," Voice said.
For more information about The Real Dog Equipment Company visit the website here.