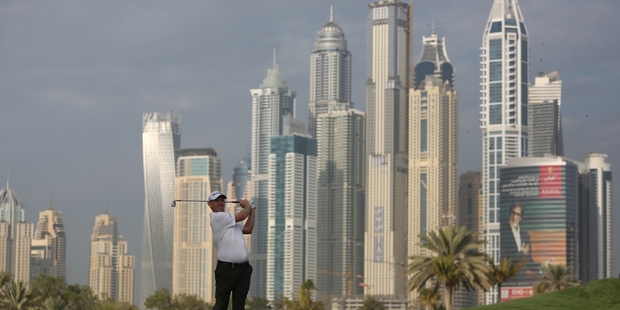 Dubai is still recovering from the 2009 crash which saw property values slashed by more than half. Picture / AP
A global property consultant says there are worrying signs Dubai could be facing another economic bubble after property prices jumped more than 22 per cent last year and rents by 17 per cent.
Dubai, which is part of the oil-rich United Arab Emirates, has long had a penchant for monumental buildings and development projects, notably a large area around a new airport with hotels, housing and a new conference centre to host the world Expo in 2020.
Dubai is already home to the world's tallest building - the Burj Khalifa - and numerous man-made islands in the shape of palm trees and a map of the world.
In many sectors, the city is still recovering from the 2009 financial crash that saw property values in Dubai slashed by more than half.
The city's government ultimately needed a $10 billion bailout from neighbour Abu Dhabi, and Dubai-owned companies are still paying back tens of billions of dollars in loans after the city's building boom came to a halt.
In its annual report on real estate trends in the UAE, Jones Lang LaSalle pointed to a number of concerns, including unsustainable growth in property costs and speculative buying. Prices climbed even more after it was announced in November that Dubai would host the world Expo.
Concerns of another bubble have been lurking for months. The International Monetary Fund said this year that Dubai's megaprojects, if not "implemented prudently", could exacerbate the danger of a bubble and create extra risks for government-linked companies and the banking system.
Jones Lang LaSalle said the rise in residential property prices last year was "irrational". But unlike the 2009 financial crisis that rocked Dubai, the investment and advisory firm says the market is "smarter" this time around.
The firm also said rents are likely to continue to climb, but not expected to soar as they did last year. The firm said interest by local and international investors is strong, with more than $44 billion pumped into Dubai's real estate market in 2013. The IMF says economic growth in the UAE is expected to remain strong at 4.5 per cent this year.
Mega projects that were either put on hold, significantly slowed or not initiated during the financial crisis are coming back to life again because of growing confidence in the UAE's market, the firm said.
Also, the group says, investors are more cautious, there are significant levels of new housing units on the market and regulations have improved.
Most notably, Dubai doubled property registration fees from 2 to 4 per cent to discourage flipping, or rapid-paced buying and selling that can result in sudden price increases.
Some analysts have noted, though, that the extra 2 per cent is being tacked on to the sale price and so is not enough on its own to deter flipping.

Shoppers' paradise in Dubai
Dubai has its eyes set on the multi-billion-dollar-a-year global fashion industry,
which is currently dominated by the United States, Europe and Japan.
But in the Middle East, Dubai is the powerhouse, raking in almost half of the region's market share of retail spending.
As people in other parts of the Arab world grapple with protests, violence and turmoil, Dubai's modern skyscrapers, over-the-top glitz and flair for opulence provide the well-heeled with a seemingly endless supply of indulgence and distraction.
Real estate services firm CBRE ranks Dubai as the second-most-important destination for international retailers, after London. A little more than half of all major international retailers have outlets in Dubai, and a third of all luxury spending in the Middle East happens there, according to consulting firm Bain and Company.
Construction has begun on a massive project called the Dubai Design District, or D3. The site is dedicated to the fashion industry and will house design studios, boutique hotels, high-end apartments and, of course, a promenade for shopping.
The first phase of construction on the 1.7 million-square-metre site will cost around $1 billion and be ready by 2015.
-AP