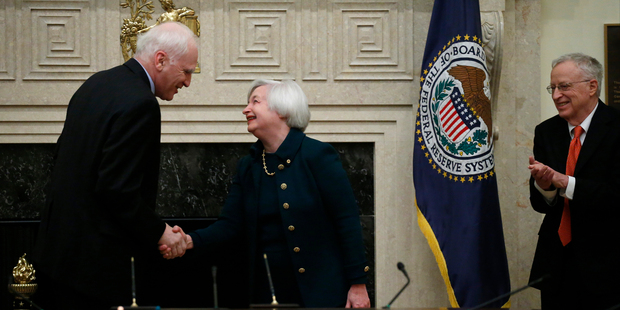 Janet Yellen shakes hands with Fed Board Gov. Daniel K. Tarullo, left, after she was took the oath of office as Federal Reserve Board chair. Her husband George Akerloff (R) applauds. Photo / AP
Janet Yellen has been sworn in to succeed Ben Bernanke, becoming the first woman to lead the Federal Reserve in its 100-year history.
Yellen, who was confirmed by the Senate last month, was sworn in by Fed Governor Daniel Tarullo, the senior member of the Fed's seven-member board.
She took the oath in a brief ceremony in front of a fireplace in the Fed's massive board room. Her husband, Nobel-winning economist George Akerloff, was present as were other Fed board members and Fed staff.
Yellen, 67, made no remarks at her swearing in but did smile to acknowledge the applause of the assembled group.
Nominated by President Barack Obama on Oct. 9, her four-year term as chairman will end on February 3, 2018.
Meanwhile, the Brookings Institution, announced that Bernanke was joining the Washington think tank as a distinguished fellow in residence.
Bernanke had stepped down on Friday after eight years as Fed chairman. He had said he planned to stay in Washington and was looking forward to writing and giving speeches on economic policy.
Yellen, who served as Fed vice chair since 2010, has been a close Bernanke ally. She is expected to continue the Fed's policy of maintaining low interest rates while scaling back on the Fed's bond buying program. The Fed announced a second $10 billion reduction in the bond buying at last week's meeting, Bernanke's last as chairman.
Yellen will get to explain her views in more detail next week when she delivers the Fed's twice-a-year policy report to Congress. She will testify before the House Financial Services Committee on February 11.
-AP