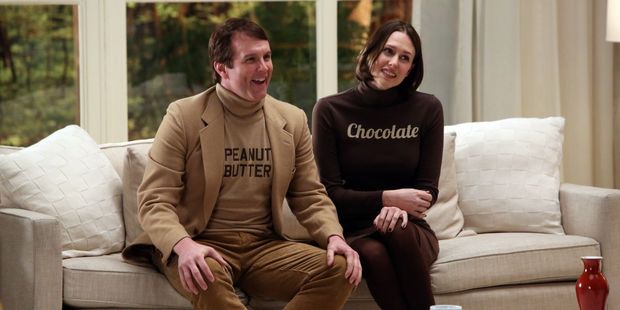 Butterfinger is ready to let tweet at this year's Super Bowl as soon as someone drops the football. Photo / AP
If it's on TV, it's on Twitter, at least when it comes to blockbuster events such as the Super Bowl.
Advertisers, in particular, are ready to capitalise.
"What advertisers have realised is that Super Bowl advertising doesn't just take place on TV, with your 30-second or 60-second spot that you paid millions of dollars for," said Debra Williamson, an analyst for research firm eMarketer. "You really need to have a broader presence."
Last year's Super Bowl, the National Football League championship game and most-watched event on US television, was interrupted by a 34-minute power outage - luckily, for one advertiser at least. Oreo seized on the opportunity and tweeted "you can still dunk in the dark". It was retweeted and mentioned on Facebook thousands of times.
Every brand wants to be this year's Oreo. Brands are setting up social media "war rooms" so they can respond to memorable events as they happen - be it another blackout, a snow storm or a wardrobe malfunction with clever, retweetable quips.
Volkswagen has set up a studio in Los Angeles to create quick, catchy video responses, said Jennifer Clayton, media manager at the carmaker. There will be about a dozen people in the room, from creative and production folk to community managers in charge of monitoring chatter on social media. Once a video is shot, it will be sent to Volkswagen's lawyers for approval and, within 20 minutes, posted on Twitter.
"We are taking advantage of all the conversations going on out there and making it even more impactful," she said.
The Big Tease: Super Bowl ads aim to go viral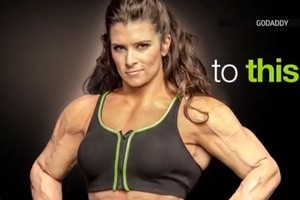 "We're taking a 30- [or] 60-second spot and turning it into a campaign that's multiple days and multiple screens."
The game is a big day for Twitter, too. The company will have its own employees in the "war rooms" of some advertisers, helping them identify what people are tweeting about the most and helping them develop quick, clever reactions.
For every Oreo, there are dozens, perhaps hundreds of tweets that fall flat, even if they were conjured up in a room full of social media experts and marketers. During last Sunday's Grammys, "a lot of brands tried to do it but only one stood out", Williamson said.
'Puppy Love' Budweiswer Super Bowl advert: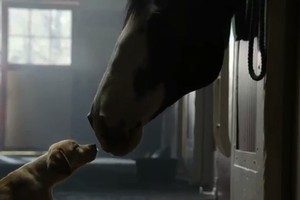 That one was Arby's. Singer Pharrell Williams showed up at the awards show wearing an oversized, puffy brown fedora. It quickly got its own parody Twitter account (with more than 18,000 followers), not to mention all the Twitter mentions. The fast-food chain known for its big cowboy hat logo quickly tweeted "Hey @Pharrell, can we have our hat back? #GRAMMYs."
It went over well. Arby's tweet got more than 83,000 retweets and a response from Williams himself: "Y'all tryna start a roast beef?"
"Brands need to have the perfect storm of the right opportunity, the right message and most critically, a relationship between your brand and whatever it is that you are trying to connect about," analyst Williamson said. "If it's forced or if [it looks] planned, it's going to come across negatively."
Admitting that the right moment may never come up, some brands are taking a different approach.
M&M's marketers plan to use Twitter, Facebook, Instagram and the video-sharing app Vine to distribute short animated videos made from peanut M&M's. The clips will include commentary from the legendary retired quarterback Joe Montana.
Elsewhere in candy land, Butterfinger plans to riff off its brand name, which is slang for someone who tends to drop stuff such as a football. "The idea of a Butterfinger moment, organically, the name of our brand will come up," Butterfinger brand manager Jeremy Vandervoet said. "We can't predict it but we're going to be ready to respond. We don't know how it will happen."
Numbers game
2011: Super Bowl: 2.8 million tweets
2012: 14 million
2013: More than 24 million
- AP