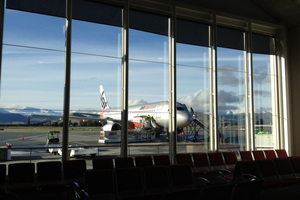 Figures released by airline Jetstar shows both it and Air New Zealand dipped from previous months in getting domestic flights away on time during December - when many were leaving on holiday travel.
According to Jetstar, 81.1 per cent of its own flights left within 10 minutes of their scheduled departure time last month, down from 89.1 per cent in November.
Air NZ had a lower performance record, with only 77.7 per cent of its flights leaving within the 10 minute time-frame during the month, according to the Jetstar data.
Air New Zealand spokeswoman Kelly Kilgour said the figures did not provide a fair comparison between the airlines because Air New Zealand's operations in New Zealand were on a much bigger scale than Jetstar's.
The data, which did not include cancelled flights, showed both airlines hit a low point of meeting the target 76.3 per cent of the time in June for Jetstar and July for Air NZ.
The most reliable months for planes taking off within the 10 minute timeframe was September for Jetstar, reaching the goal nearly 90 per cent of the time and in February for Air NZ with just over 87 per cent.
"In previous years, our on-time performance could be very good in some months, but was not consistent throughout the year. In 2013, reliability was a key focus for the airline and we performed much more strongly,'' Jetstar's New Zealand head Grant Kerr said.
House of Travel, which uses both airlines for its customers, said Jetstar's improved track record had made a big difference in the domestic market.
"Over the past 12 to 24 months, we have seen a movement from part of the business world to booking on Jetstar more than they were previously,'' the company's commercial director Brent Thomas said.
While Jetstar's reliability and customer service performance was on the rise, perks which came with Air New Zealand often meant it was still the preferred airline for many travellers.
"If it's the last [Jetstar] flight of the day and there's a problem, it is harder to fix it than Air New Zealand just because Air New Zealand has significantly more aircrafts to resolve the issue with,'' Mr Thomas said.
A monthly breakdown of the annual data for each airline last year showed Jetstar had the highest percentage of flights leaving within 10 minutes of their departure time for eight months of the year last year.
Air New Zealand had better results for three months of the year - with the carriers coming coming in equal for one month in the year.
- APNZ