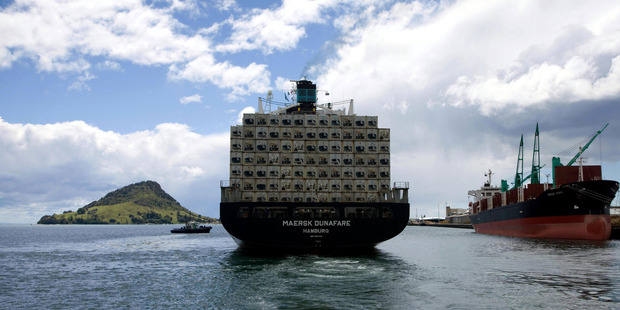 A waterfront dispute has broken out between two of New Zealand's biggest ports, arguing about who is the best.
The argument over whether Ports of Auckland or Port of Tauranga is best erupted after a glowing Morningstar report called Port of Tauranga Australasia's most productive, efficient port.
Matt Ball, head of communications at the Ports of Auckland, disputed the claim, saying Morningstar had got it wrong when it came to which port was most efficient.
"Times have changed down on the waterfront and Tauranga no longer has everything its own way," Ball told The Herald. "When you look at the speed with which ships are handled, it is Ports of Auckland which comes out on top. Latest Ministry of Transport figures show Ports of Auckland has been leading on two out of the three port productivity measures since 2012.
In the most recent quarter Auckland's ship rate - the speed with which ships are loaded and unloaded - was 17 per cent higher than Tauranga," Ball said.
The glowing Morningstar report said Port of Tauranga trade volumes in 2012 had increased by 20 per cent. The amount of cargo handled from 15.4 million tonnes to 18.5 million tonnes, in the face of subdued international trade.
"Container volumes have been particularly impressive as the company continues to gain market share. Log and forestry volumes have been on an up trend due to increased demand from Asia, a trend that should continue for the foreseeable future. We estimate trade volumes to double in 12 years, given that shipping lines are increasingly favouring the company over its rivals due to significant cost advantages," Morningstar said.
"Through the cycle, we believe the company will comfortably earn returns in excess of its cost of capital and there is virtually no competition on the horizon, leaving us confident that the firm has a wide economic moat."
Last week, the port announced a continued national expansion by buying up 15ha of commercial land in Canterbury to create a new inland port, partly to capitalise on the lucrative dairy export trade.
The company is buying land in the Izone Industrial Park at Rolleston, 12km south of Christchurch, for a freight hub or village, after last year spending $21.6 million to buy a half-share of Prime Port Timaru and $37.2 million expanding at Onehunga, where it already has its MetroPort inland port operations.
Chief executive Mark Cairns said the new Rolleston site would be an export hub for primary products and particularly dairy exports, fish and fruit and the business could spend about $20 million on the land and infrastructure although no price was disclosed because the deal remains conditional.
The site is in the middle of a diary mecca, north of one of Fonterra's largest sites, Clandeboye, processing up to 13.2 million litres of milk a day, about 40 per cent of all Fonterra South Island milk. Synlait's plant is south at Rakaia and Cairns noted how Westland Milk Products was also at Rolleston.
The Warehouse has its South Island distribution centre at Rolleston and Cairns indicated the train line to Timaru was a key component of the new deal, because containers would travel between Timaru and Rolleston by rail.