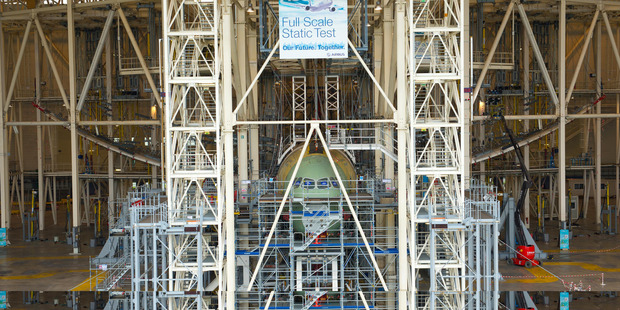 Airbus has beaten rival Boeing with record sales and orders last year but came second in terms of finished airliners delivered, figures from the company show.
Airbus said it took 1503 net orders, allowing for cancellations. This compares with 1355 orders taken by Boeing. Total orders taken by Airbus are a record for the whole industry.
Airbus also said that at the end of last year it had orders to build 5559 aircraft, equivalent to eight years of production. Results published by Boeing on January 6 showed that the US firm had a total order book for 5080 aircraft.
However, last year Airbus delivered 626 planes, trailing behind Boeing which delivered 648 aircraft.
In 2012, Boeing beat Airbus in terms of orders and deliveries.
For 2014, Airbus chief executive Fabrice Bregier said the company was targeting booking at least 626 orders, and that it had increased its catalogue prices for aircraft by 2.6 per cent from January 1.
Bregier said that the company was considering increasing production of its best-selling plane, the Airbus A320, which is popular with low-cost airlines, to satisfy global demand for medium-range aircraft.
"If the market remains positive, if the customer needs more aircraft, I think we would be silly not to ramp up again," he said.
Airbus is producing 42 A320 aircraft a month and had said it did not want to increase this rate of production until it had converted to producing the latest, more fuel-efficient version, the A320neo.
In another step on the road to its certification, the Airbus A350 XWB widebody twinjet has successfully passed the ultimate load test of its wing, withstanding 1.5 times the load the aircraft would ever encounter during its entire in-service life.
- AFP