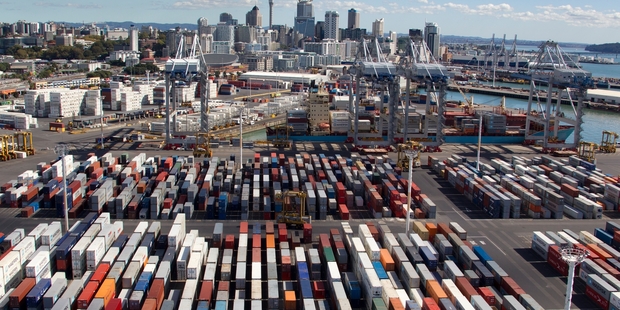 Ports of Auckland has notched up its best two months and an analyst says it has seized container volume share back from Port of Tauranga.
Matt Ball, Ports of Auckland head of communications, said October and November were record months.
"In October, we handled just over 54,000 containers and November we handled just under 54,000 containers. October was our highest month ever and it's the first time we've had two 50,000-plus months in a row. The last time we had anything close to this level of volume consistency was in late 2011," he said, when 51,722 containers were handled in September 2011, 49,957 in October and 49,293 in November.
Ball attributed the record surge to securing two new services and a third returning.
In July, Maersk resumed its Southern Star service after that shifted to Tauranga during the port's Maritime Union dispute and in August, two new services were announced - MSC's Capricorn Service and Kiwi International Express, a new vessel-sharing arrangement between ANL, APL and Hanjin Shipping.
"The other aspects just seem to be a general lift in economic activity and as a result, we had the two best months we've ever had," Ball said.
Andy Bowley at Forsyth Barr said latest Ministry of Transport data showed Port of Tauranga container numbers fell 13 per cent in the September quarter, exacerbated by Fonterra's food safety scare, compared to Ports of Auckland volumes rising 11 per cent.
"We expect Port of Tauranga to continue to lose share to Ports of Auckland through the remainder of 2014," Bowley said.
Port of Tauranga has traded at a premium to the market and that was expected to continue due to the company's high returns, longer-term growth outlook, capital management potential, strong management team, operational execution capability and conservative balance sheet.
"While the longer term fundamental story is attractive, near term challenges and valuation constraints are reflected in our hold rating."
Mark Cairns, Port of Tauranga chief executive, confirmed the numbers and said more details would emerge next month when the interim results are released on February 20.
On Monday, Cairns announced a conditional deal, worth about $20 million, to buy 15ha of Rolleston land south of Christchurch to create a new freight village, railing then shipping goods out of PrimePort Timaru.
Tauranga shares climbed from $13.50 on Monday to close at $14.60 yesterday.
"The market obviously liked the news and sees some prospect for further growth. We have to make it work now," Cairns said.
Mark Lister, head of research at Craigs Investment Partners, described the Rolleston deal as a positive and sensible long-term move.
Container surge
* Record 54,000 containers handled in October.
* October and November first time two months in a row top 50,000.
* Two new services and returning business help drive the surge.