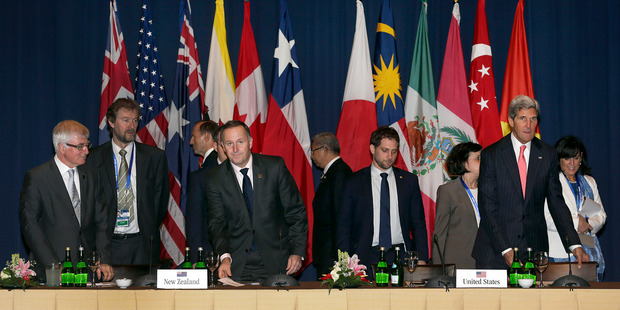 U.S. Secretary of State John Kerry, front right, and New Zealand Prime Minister John Key, front second left, arrive for the Trans-Pacific Partnership meet in Bali. Oct. 8, 2013. Photo / AP
Legislation key to President Barack Obama's trade agenda to boost exports to the Asia-Pacific is being welcomed by business, but faces some stiff opposition from Obama's fellow Democrats.
A bill to grant the president "fast track" authority for negotiating trade deals was introduced Thursday, co-sponsored by a senior Democrat and two key Republicans.
Fast track, which was last approved in 2002 and expired in 2007, assures that the administration can negotiate trade deals that Congress can accept or reject but cannot change.
The administration will be counting on strong support from Republicans, who are traditionally more supportive of free trade pacts than Democrats. Such bipartisanship, however, is a rarity in the divisive political atmosphere that has severely hampered Obama and last fall culminated in a partial government shutdown.
Approval of fast track would be key to adoption of a trans-Pacific trade agreement the US is closing in on with 11 other nations that in all account for some 40 per cent of global gross domestic product. The pact is central to the administration's policy shift toward Asia, and in its effort to drum up exports to the region's fast-growing economies.
The bill is also intended to apply to a trade pact under negotiation with the 28-member European Union.
But Rep. Sander Levin, the top Democrat on the House committee overseeing trade, quickly announced his opposition to the fast track legislation, saying it should stipulate a more active role for Congress, allow greater scrutiny of the negotiations by lawmakers and tackle currency manipulation.
"The vast majority of Democrats feel that we need to have a much more active, vigorous role for Congress in addressing trade issues, and there needs to be much more transparency and issues like currency have to be addressed," Levin told reporters.
Lawmakers of both parties have expressed concern that trading partners such as Japan, which is part of the Trans-Pacific Partnership, or TPP, undervalue their currencies to boost their exports.
The bill's sponsors, however, contend it addresses those concerns, and establishes new goals for US negotiators on digital trade, and updates those on protection of intellectual property and labor and environmental standards. They say the legislation would allow every lawmaker access to the negotiations.
"This is our opportunity to tell the administration - and our trading partners - what Congress' negotiating priorities are," Sen. Max Baucus, Democratic chairman of the Senate Finance Committee.
Baucus, whose recent nomination to become US ambassador to China could leave him little time left to push the bill forward, made the comment in a joint statement with his co-sponsors of the bill. They are Sen. Orrin Hatch, the senior Republican on the finance committee, and Dave Camp, Republican chair of the House Ways and Means Committee on which Levin also sits.
The Obama administration welcomed the bill as key to implementing its strategy to increase exports and support more American jobs at higher wages.
"We look forward to working with Democrats and Republicans in Congress throughout the legislative process to pass Trade Promotion Authority legislation with as broad bipartisan support as possible," a White House statement said.
Fast track is vital not just for the eventual ratification of a trade pact, but also likely important for finalizing the TPP. It would help assure other nations that Congress will not tinker with what's agreed upon by US negotiators who will be hoping to wrap up a deal in the coming months perhaps before Obama visits Asia in April.
But fast track has never been popular among unions and many Democrats.
Some 151 Democrats and 22 Republicans out of 435 members of the House have already come out in opposition to renewal of fast track unless Congress has a more "meaningful role" in forging trade agreements. Sizeable numbers of Democrats have also come out against the TPP, principally because they argue it will cost American jobs.
The fast track bill would renew the president's trade promotion authority for up to seven years.
The business community, including the US Chamber of Commerce, quickly voiced its support, as did some Democrats.
Five House members from the New Democrat Coalition said the bill made key improvements to the 2002 fast track, and would help in efforts eliminate unfair barriers for American companies.
But five senators appeared to voice doubts, urging the administration to work directly with Congress before considering renewal of fast track, and calling for US trade negotiators to be more accountable to Congress.
-AP