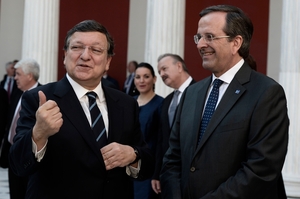 Antonis Samaras (right) and Jose Manuel Barroso at the EU takeover ceremony yesterday. Photo / AP
European Union leaders yesterday praised Greece's efforts to fix its crisis-hit economy, as the country formally assumed the bloc's rotating presidency.
"The challenges are still immense, social conditions are still demanding, and unemployment remains at unacceptable levels," European Commission president Jose Manuel Barroso said at a ceremony with Greek Prime Minister Antonis Samaras. "But important progress was achieved. Greece is turning around its economy."
Reeling under a gaping budget deficit and massive debt, Greece has been dependent on rescue loans from other EU countries that use the euro as their currency and from the IMF since May 2010.
In return for billions of euros in bailout loans, successive Governments have had to impose harsh austerity measures in an effort to overhaul the country's economy. Spending cuts and repeated tax hikes have led to deep resentment among many Greeks, sparking strikes and often violent protests.
Athens hopes to emerge from a gruelling six-year recession in the next six months.
Barroso stressed that financial rescue packages do work, pointing to the success of Ireland, which managed in December to leave its own bailout programme and return to borrowing on the international bond market. He urged Greece to stick to its own reforms and "not to give up".
- AP