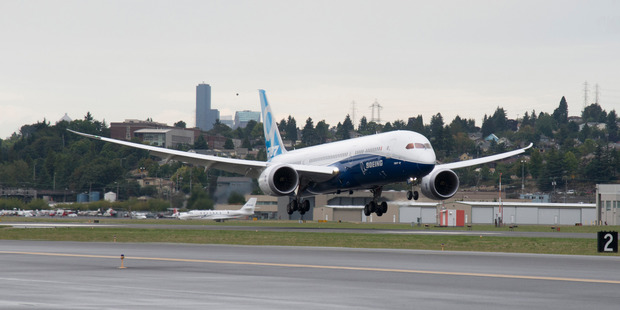 A Boeing 787-9 Dreamliner destined to join Air New Zealand's fleet has made a whistle-stop visit to Auckland.
The aircraft, which will be eventually one of 10 to be delivered to the carrier, touched down on Saturday night and was inspected by airline executives before flying out yesterday afternoon to Alice Springs for hot weather testing.
The 787-9 is the stretched version of the first model which entered commercial service in 2011 after years of delays and was hit by further problems, including battery fires, last year.
Air New Zealand is the first customer of the 9-series and will initially use them on routes to Perth, China and Japan.
Its range means it could be possible for the airline to fly deep into North America or parts of Asia.
The test aircraft flew direct from Seattle's Boeing Field to Auckland Airport in 13 hours, 49 minutes.
Air New Zealand's planes will be fitted with 302 seats with 18 lie-flat seats in the business premier cabin, 21 new design seats in premium economy and 263 in the two economy cabins.
The list price is about $300 million for the 787-9, which is 20 per cent more fuel efficient than older similar-sized planes.