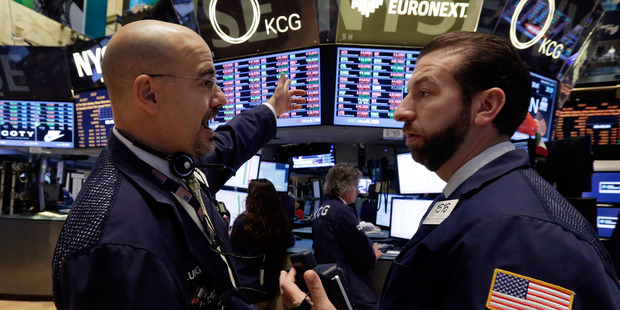 US stocks have spent most of 2013 on an upward tear but they spent most of last week in retreat.
All three indices finished lower after a week that included a US budget deal in Congress, a historic appointment at US auto icon General Motors and a successful initial public offering of the Hilton hotel chain.
In the end, the Dow Jones Industrial Average fell 264.84 (1.65 per cent) to 15,755.36. The broad-based S&P 500 declined 29.77 (1.65 per cent) to 1775.32, while the tech-rich Nasdaq Composite Index gave up 61.54 (1.51 per cent) to 4000.98.
The week's biggest piece of news was a bipartisan budget deal that sets discretionary budget caps for 2014 and 2015, repeals billions of dollars in automatic spending cuts and avoids the prospect of a US government shutdown next year.
The deal easily won passage in the House of Representatives, which splintered badly during the October budget melee. The Senate is expected to approve the measure this week.
"It's the first time in years we've been able to reach any kind of compromise," said Jack Ablin, chief investment officer at BMO Private Bank.
Greg Peterson, director of investment research at Ballentine Partners, rated the budget deal "astonishing" after recent budget battles.
However, Peterson attributed this week's decline in stocks in part to the progress in the budget.
When the Federal Reserve opted against tapering its bond-buying, it cited uncertainty over the US budget debate as a factor.
But this week's deal could convince the Fed that there is less need for stimulus, Peterson said.
"The markets reacted negatively because they thought the agreement would increase the chance of the Fed tapering," Peterson said.
The possibility is also promoted by improving economic data, including last week's better-than-expected retail sales report.
Still, some analysts think the Fed will wait until 2014 to scale back the programme. The Fed is scheduled to wrap up a two-day policy meeting on Thursday.
Analysts also cited profit-taking as a factor in the week's equity declines. Money managers had a strong incentive to lock in profits for 2013 given that the S&P 500 had risen more than 25 per cent heading into last week.
GM highlighted much of the week's corporate news. On Monday, the US Treasury said it had sold its last shares in the largest US automaker, closing the books on the "Government Motors" era that included a painful bankruptcy restructuring.
The following morning, GM announced that it picked company veteran Mary Barra to serve as chief executive, the first woman ever to lead a major car company.
"We're dedicated to the customer, we're dedicated to making sure we have great products and we're dedicated to winning," Barra said.
The car company also announced it was selling its last shares in Ally Financial, its former finance unit, and divesting a 7 per cent stake in French automaker PSA Peugeot Citroen.
In other corporate news, shares of Hilton Worldwide Holdings gained 10.5 per cent after the company raised US$2.35 billion in its IPO.
Hilton chief executive Christopher Nassetta emphasised the company's international growth plans and efforts to employ a strategy of more management and franchising of hotels and less direct ownership.
Food service firm Sysco announced the week's most significant merger, a US$3.5 billion takeover of rival US Foods. It creates a distribution giant with US$65 billion in annual sales.
US airline giant American Airlines formally emerged from bankruptcy and began trading on the Nasdaq, rising nearly 10 per cent for the week.
Big banks found themselves under the spotlight again after a team of US regulators enacted the Volcker Rule, a long-awaited measure intended to curb risky trading.
This week's news will likely be dominated by the Fed meeting.
Besides the Fed meeting, the newsflow includes fresh data on consumer prices, housing starts and industrial production.
FedEx is also scheduled to report earnings.
- AFP