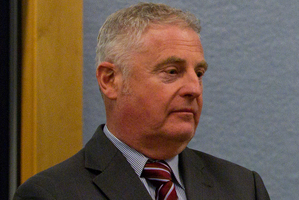 A High Court judge has made restraining orders over property linked to two jailed Capital + Merchant Finance directors, with the police looking to eventually seize the assets.
The Commissioner of Police has applied to restrain properties said to be associated with C+M directors Neal Nicholls and Wayne Douglas, who are both serving jail sentences for fraud and misleading investors of the failed finance company.
C+M collapsed in 2007 owing $167 million to 7500 investors, who are expected to get none of this back.
The police are now targeting the two C+M directors' alleged leasehold interest in a commercial property in the Auckland suburb of Parnell, as well as a term deposit associated with Paua Capital Limited - which Companies Office says Nicholls is the sole shareholder of.
Crown lawyer David Johnstone appeared in the High Court at Auckland this morning requesting restraining orders over these assets, which were then made by Justice Graham Pankhurst.
The police also seeking restraining orders over a property in Rodney and another in Gulf Harbour said to be associated with Douglas. While these were discussed in court today, a lawyer acting for trustees related to these properties indicated she would file opposition against this attempt.
Johnstone told the Herald outside court that the police would look to seize the property if it was found to be under the directors' effective control.
While the police had originally applied to restrain two Wellington properties believed to controlled by jailed former C+M chief executive Owen Tallentire, Johnstone said this morning that this bid was being withdrawn.
This effectively removes Tallentire from this proceeding, Johnstone said.
Police were also planning to apply for orders against a property on Auckland's Great South Road but also withdrew this bid today.
Douglas and Nicholls are both serving the longest prison sentences handed out to failed finance company directors to date.
Nicholls is serving a sentence of 8 years 6 months in jail while Douglas received 8 years 2 months in prison.
This followed a Serious Fraud Office trial where the men were found guilty of theft by a person in a special relationship for a series of loans totalling almost $20 million.
The pair loaned investor money for their own benefit in ways that breached Capital + Merchant's trust deed.
In sentencing them, Justice Edwin Wylie said the directors' actions were cynical. "The offending was sophisticated," he said. "Each of the offenders was driven by self-interest and greed."
The men both got 7 and a half years in jail and had their sentences extended to after pleading guilty to Financial Markets Authority charges.
Tallentire, who was also convicted in both SFO and FMA cases, was sentenced to six years' jail.